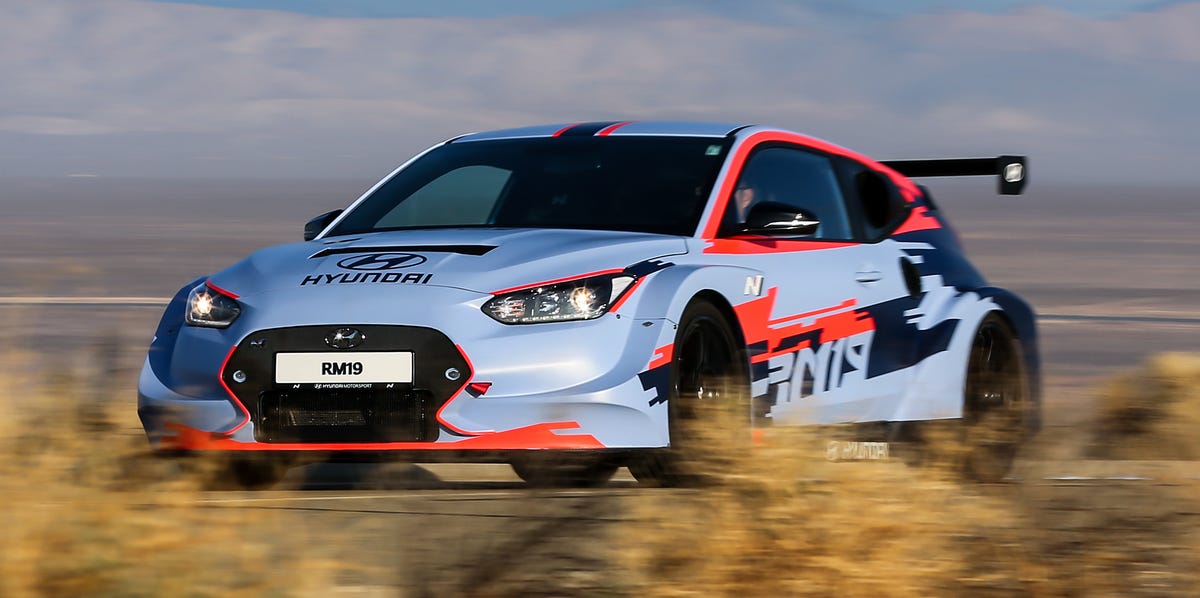 Its name is a misnomer. Or at least only partially accurate. The Hyundai RM19 isn't quite a true mid-engine machine. Hyundai says "RM" stands for "racing midship," but this car's engine—a turbocharged 2.0-liter producing 390 horsepower—isn't mounted ahead of the rear-axle line. According to Alberto Iob, calibration engineer at Hyundai Motorsport, "The engine is basically on the rear axle, so it's actually in between mid-engine and rear-engine."
The RM19 began life as a production front-wheel-drive Veloster, and it maintains much of its bodywork and dashboard to prove it. "I don't want to call it a toy; that's not fair," says Thomas Schemera, the man in charge of Hyundai's High Performance Vehicle and Motorsport Division since 2018. "It's a test bed, a rolling lab." Hyundai has indeed confirmed that it intends to create a high-performance production car with its engine in back, although it's still a couple years away.
Riffing off cars like the engine-in-the-back-seat Renault R5 Turbo and Clio V6 Renault Sport, Hyundai has been toying with mid-engine-powered hatchbacks for a while now. The Korean brand just won its first World Rally Championship this year, and the N Performance line continues to grow. The RM19, which was revealed at the Los Angeles auto show, is the latest high-performance vehicle in the sequence. "It's the wildest machine we have so far," Schemera says with a smile.
The RM19 is the first mid-engine one-off that Hyundai has allowed us to drive, but we're not at the Nürburgring, where it has undergone extensive testing. Instead, the company has brought two RM19s to its proving grounds in the Mojave Desert and is giving us three laps of its Iowa-flat, billiard-table-smooth handling course.
Part Race Car, Part Hot Hatch
Visually, the RM19 is easy to confuse with the front-engine Veloster race car fielded by Bryan Herta Autosport for IMSA competition. Its exaggerated bumpers, flares, hood, and rear spoiler are made of carbon-fiber and Kevlar composites, and the signature rear door on the passenger's side has been eliminated. Two large side scoops feed the intercooler, which also has water sprayers for additional cooling, while the engine breathes through a round hole in the bodywork behind the driver's door. For a while, the engine's intake wore a scoop to direct more air into the engine, but it was deemed too unsightly, so Hyundai removed it.
The company says the RM19 has spent time in its rolling-road wind tunnel and weighs 3200 pounds. The four-cylinder engine and sequential six-speed gearbox are primarily aluminum, and the 48 percent front and 52 percent rear weight balance is achieved by relocating the fuel tank and the radiator to the front. Two fans force hot air out of the engine compartment through holes cut into the backlight.
A large turbocharger from a Mercedes-AMG A45 produces a maximum of 21.8 pounds of boost from 4000 rpm to 5500 rpm and tapers off to 19.0 psi by 7000 rpm. Although Hyundai claims the engine will produce about 390 horsepower running on high-octane gasoline and a 9.8:1 compression ratio, the engine makes more than 400 horsepower, according to Iob.
Can Be a Handful
Helmet on, we step inside and fasten the prototype's four-point harness. The RM19 sounds and feels like a race car. There's a beefy cage, hard racing seats, and a small three-spoke steering wheel with carbon-fiber paddle shifters. The 2.0-liter is fitted with a muffler but idles at over 1200 rpm, and the gearbox, with its straight-cut gears, finds first with clunk. Unfortunately, we're told to leave the Launch button on the steering wheel alone.
There's a clutch pedal, but it's only needed to get the car moving from a dead stop. It chatters a bit, but we keep the revs up as we pull onto the track. First gear is long and the engine builds revs smoothly but slowly. The gearbox is noisy, so much so that it drowns out the engine, even at the 6800-rpm redline. We zing past the redline to find that there's a rev limiter at 7200 rpm.
There's a healthy amount of turbo lag, too. You'll count a beat or two between full throttle and full thrust. Nothing interesting happens below 4000 rpm. But then the power kicks the door down and tests your grip on the steering wheel. "We have it tuned for top-end power," says Iob. "That's how we like it for the racetrack." If you're ready to catch the slide, you can drift the RM19 from the corner's apex to the edge of the road like a shifter cart, but it can be tricky to drive. More than one driver is caught out by its peaky power band and rear weight bias and spins off onto the gravel.
In faster corners, the RM19's chassis holds on tight, allowing you to get back on the power early. Gearchanges are firm and immediate. Its power steering is quick, with the same 12.3:1 ratio as the production Veloster N. It's also light and precise, with plenty of feel. The Veloster's multilink rear suspension has been replaced with control arms, but it's tuned softer than expected. We're told the spring and damping rates are just a little higher than the specs of a production Veloster N. There's a bit more body roll than expected, which actually makes it easier to drive.
Another surprise is its rubber. Instead of the expected slicks, the forged aluminum wheels are wrapped in Pirelli P Zeros, size 245/30ZR-20 up front and 305/30ZR-20 in the rear. Choosing street tires might not result in the most grip, but they break away progressively and allow you to play right on the edge. Get the hang of its balance and power delivery and the RM19 is entertainingly tossable. It would be all smiles at a track day.
Hedging Its Bets
Although company reps have already confirmed Hyundai's intentions to produce a mid-engine sports car, Schemera tells us that such a car isn't approved, but if it were, it would be three or four years down the road and would have to have a flexible platform that would work for Hyundai, Kia, and Genesis. It would also have to have the ability to accept a wide range of powertrains, including electric, hybrid, and fuel cell. "It would be challenging to make such a car affordable at $35,000 to $40,000," he says. "It makes the most sense for Genesis, at $50,000 to $80,000. This could be a strategy to compete with the Corvette, but it hasn't been decided yet."
In the meantime, the Veloster N will get a new eight-speed dual-clutch transmission eventually, and a Sonata N-Line is on the way. Both cars will have their engines in the front.