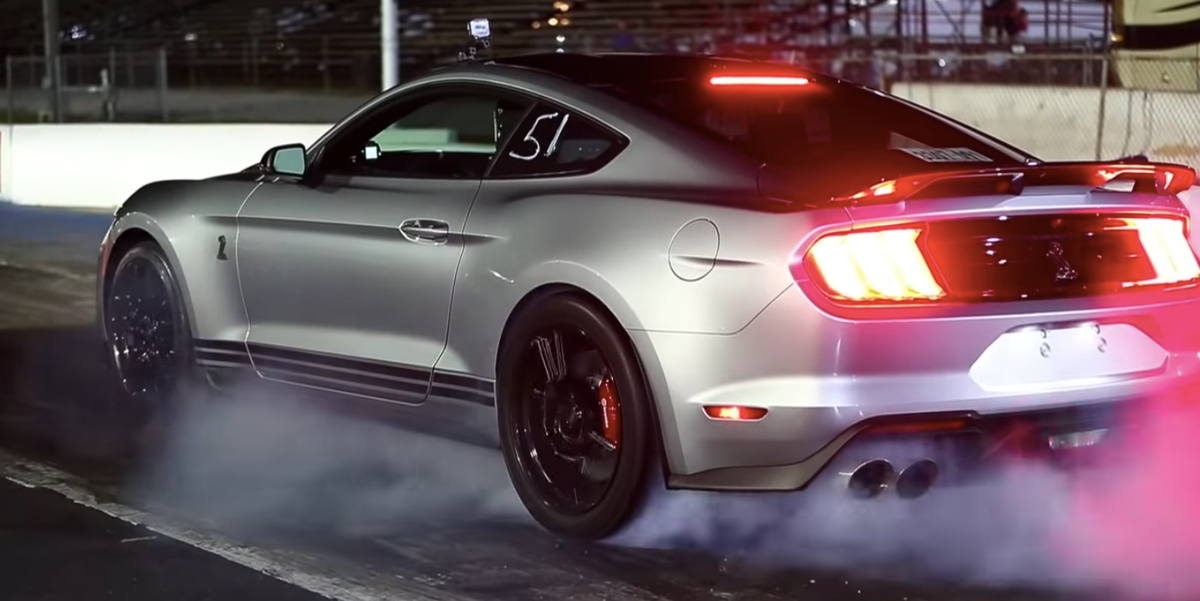 With a 760-hp 5.2-liter supercharged V-8 under the hood, the Ford Mustang Shelby GT500 isn't exactly underpowered. Ford claims it can do the zero-to-60-mph sprint in 3.3 seconds and hit the quarter-mile in 10.7. But for some, those numbers just aren't enough.
Evolution Performance, a shop in Pennsylvania, got its hands on one of the first GT500s to leave the factory and immediately got to work modifying it for more power. Among the upgrades include a ported supercharger, a new pulley, bigger injectors, a bigger fuel pump, headers, an X-pipe, and a tune for race fuel. There's also drag radials out back, and additional bracing in the chassis to ensure power is transferred to the ground smoothly.
The result is a claimed 945 horsepower to the wheels—an increase of 185 horsepower compared to the stock number at the crank. REVan Evan on YouTube was on the scene at Bradenton Motorsport Park in Florida to film the car running a 9.93-second quarter-mile at 140 mph, making it, they claim, the first 2020 GT500 to break the 10-second barrier.
If achieving these speeds is possible so soon after the car's launch, we're excited to see how the tuner scene for the GT500 will look one or two years down the line.