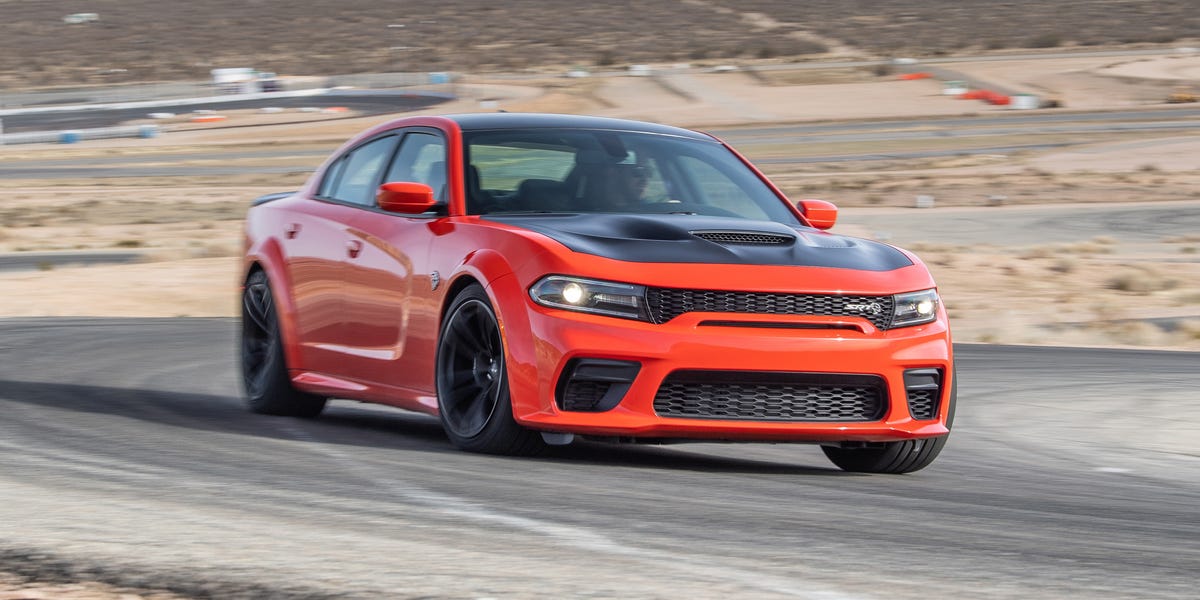 Burnouts, donuts, and powerslides. The three basic exercises of excessive tire destruction and the trifecta of automotive immaturity. The very reasons Dodge has been churning out Hellcat-engined Chargers and Challengers with more than 700 horsepower for five years.
Tormented by traction, Hellcat drivers are the frequent fliers of the tire industry, a subculture of their own. Burning rubber is their sport. Black-striped stretches of asphalt their art. Clouds of tire smoke their language. The 2020 Dodge Charger Hellcat Widebody their new deus ex machina.
More Tire to Burn
Dodge gave its SRT-tuned Challengers the Widebody treatment for 2018, and the Charger crowd that gobbles up roughly 80,000 Chargers a year, about eight percent of which are Hellcats, has been clamoring for a similar treatment ever since. Now, for the 2020 model year, every Charger Hellcat is a Widebody. Just like the Widebody Challengers, Dodge fits the sedan with large plastic flares around the wheel wells that add 3.3 inches of overall width. Massive 20-inch wheels that measure 11 inches wide sit at each corner and are wrapped with 305/35R-20 Pirellis. All-season tires are standard, but the cars work better on the optional Pirelli P Zero PZ4 summer tires such as the ones on our test car.
There also are more intense front and rear fascias, reshaped rocker-panel extensions, and a redesigned rear spoiler. "My main goal was to make the cars look badass. It was my job to give these cars attitude," Mark Trostle, FCA's head of performance, passenger, and utility vehicle design, said. "I think they look freakin' pissed off." Next to the big Dodge, a BMW M5 looks relatively meek.
The Charger Widebody's scooped hood is unchanged, as is the 6.2-liter thermonuclear device it shields from the rain. The supercharged V-8 still pumps out 707 horsepower at 6000 rpm and 650 lb-ft of torque at 4800 revs. The same engine is used in the Challenger Hellcat Widebody, where an additional air intake brings 10 more horsepower. The Daytona version of the Charger Hellcat Widebody also gets the 717-hp rating, but it's the result of dyno trickery instead of a hardware or tuning change. Instead of taking the power rating at 6000 rpm, the Daytona's peak output is recorded at 6100 rpm, and to justify the number in the real world the Daytona's wide-open throttle upshift from third to fourth gear has been delayed 100 revs. A standard Charger Hellcat makes the same 717 horsepower at 6100 rpm, and both setups have a 6200-rpm fuel cutoff.
BMW M5 drivers may scoff at the Hemi's iron block, pushrods, and mere two valves per cylinder, but the Hellcat V-8's lumpy idle and the maniacal howl from its 2.4-liter supercharger are as entertaining as its ability to liquefy its rear tires, at nearly $400 a pop. As before, the Challenger Hellcat's six-speed manual transmission is not offered here. Instead, every Charger Hellcat Widebody gets ZF's excellent 8HP70 eight-speed automatic, which is perfectly matched to the blown Hemi with short, tight ratios and snappy gear changes, especially in its Track mode.
Impressive Performance
At the test track, traction remains a serious issue, and the Hellcat's launch-control system is of little help when trying to lay down the quickest possible times. Matching the performance of the Challenger Hellcat Widebody, our test car delivered a zero-to-60-mph time of 3.8 seconds and a quarter-mile pass of 11.9 seconds at 124 mph when we tested it in California. These times were achieved by babying the 4626-pound sedan's accelerator to 30 mph before going to full throttle. Any sooner and the Pirellis send up smoke signals. Using the launch control, which has a programmable launch rpm from between 1200 to 2400 revs, our best run to 60 mph was 4.5 seconds.
Dodge says the Widebody Hellcat can hit 60 mph in 3.6 seconds and cover the quarter-mile in 10.96 seconds, which might be possible with slicks on a prepped dragstrip. However, back in 2015, we tested a non-Widebody version the Charger Hellcat in Michigan and, despite its smaller 275/40R-20 summer tires, it managed to hit 60 mph in 3.4 seconds and cover the quarter mile in 11.4 seconds at 128 mph. As with any extremely powerful rear-wheel-drive car, posting the best acceleration times really comes down to surface and traction conditions.
It was a similar story on the skidpad and in our braking tests. Although Dodge says the Charger Widebody can generate 0.96 g of lateral grip, our test car topped out at 0.94 g, the same as its narrow-bodied predecessor. It also stopped from 70 mph in 162 feet. That's nine feet, or about half a car length, longer than before.
Makes a Great Daily
With all its extra rubber and the Widebody's 1.6 inches of additional track width, the Charger does feel more planted on the road than before. Its adaptive Bilstein dampers also have been stiffened, but not enough to kill the ride quality, which is firm but comfortable. The Charger's suspension is still tuned a bit softer than the Challenger's, and it has a four-inch longer wheelbase, which helps smooth things out even more. Roll stiffness also has been increased. The Hellcat's front spring rate is up 32 percent, and its anti-roll bars are thicker. Still, there's not enough head toss over undulations to be a problem, and there's surprisingly little impact harshness despite each of its massive wheels and tire assemblies weighing 65 pounds.
Although the Widebody mods only add about 30 pounds, the Charger still is a large, heavy sedan with 56 percent of its weight over its front tires. Nimble it is not, but it is predictable in its road manners, and it has plenty of grip. Properly weighted and tuned with a quick, 14.4:1 ratio, its new electrically assisted power steering is shared with the Challenger Hellcat, which means it isn't entirely numb but still could offer more feel and feedback.
The big Charger is wonderfully stable in faster corners and is fun to push through slower sections once you get used to its bulk. Master this brute, and it's actually fun to toss around. Dare to shut off its stability control, and it rotates on the brakes and blazes its rear tires from corner to corner in long, lurid drifts.
America's Greatest Sedan
Inside, the Charger is showing its age, yet its cabin is functionally sorted, properly spacious, and as quiet as a M5 inside once the Hemi eases back in top gear at a 70-mph cruise. Although its heated and ventilated front seats have always been a bit lumpy compared to the best sports seats out there, and the Charger's fit and finish are still several steps behind its German rivals, you still get a ton of features and performance for our test car's $83,405 as-tested price.
After five years, Dodge has figured out a way to improve the Charger Hellcat without really changing much. And with Cadillac discontinuing the CTS-V, this is now definitively America's greatest high-performance sedan, and the undisputed king of the four-door tire-burners.