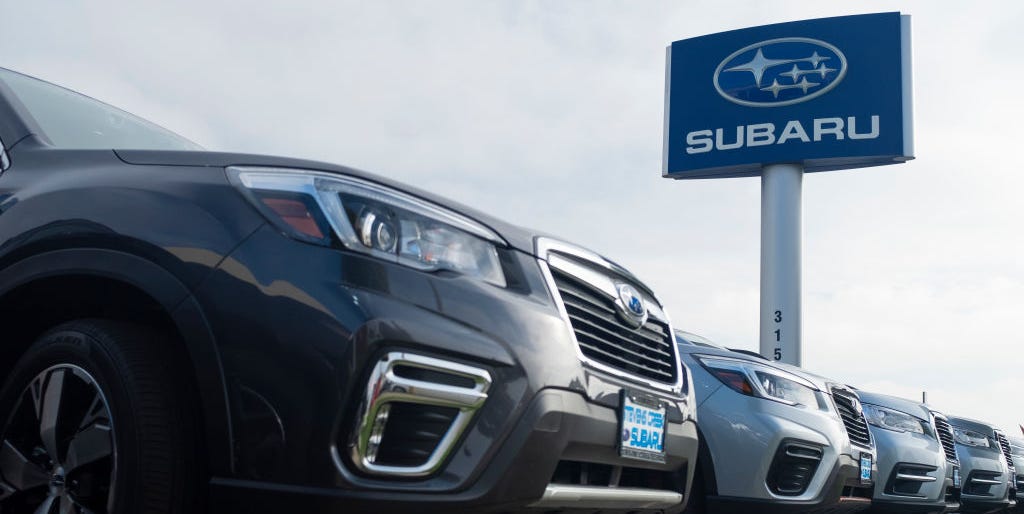 Automakers are reporting year-end sales numbers for 2019.
We're tallying up which brands gained and lost the most sales compared with 2019.
This post will be updated as more automakers release annual sales reports.
2019 sales numbers are rolling in, and we're rounding up the most notable winners and losers among the different automotive brands. Find out which companies gained and lost the most in year-over-year U.S. sales. (Not all automakers have reported year-end 2019 sales yet, so we will keep this post updated as more numbers become available.)
The Good
Fiat Chrysler's Ram brand, which includes full-size pickups and ProMaster cargo vans, rose by a huge 18 percent, to 703,023 units. The pickups, which were redesigned recently, were up by 18 percent overall to topple the Chevy Silverado from its usual second-place perch in the truck wars. The full-size ProMaster was up 21 percent, which can be partially attributed to large-scale orders from Amazon for its fleet of delivery vans.
Subaru was up 3 percent to 700,117 units, largely thanks to the addition of the Ascent three-row SUV and strong sales of the Outback and Forester, both of which were recently redesigned. The company says that 2019 marked the 11th consecutive year of sales gains.
Hyundai rose 3 percent to 688,771 units as its growing SUV lineup more than made up for declines among sedans such as the Elantra and Sonata. The subcompact Kona and mid-size Santa Fe crossovers rose significantly, while the addition of the three-row Palisade helped to boost the brand's overall SUV sales by 20 percent.
Volkswagen's SUV-heavy product strategy is working well, as its sales rose 3 percent to 363,322 units. 53 percent of those sales were from the Tiguan and Atlas SUVs, and more crossovers are on the way including the Atlas Cross Sport and an unnamed model that will slot in below the Tiguan in size.
The Bad
Despite the fact that its hot-selling CX-5 crossover was up 2.6 percent, Mazda declined 7 percent to 278,552 units in 2019. That's because Mazda's car lineup, the 3, 6, and MX-5, was down by double digits—24 percent, to be exact. In fact, the CX-5 alone outsold the rest of Mazda's entire lineup, as it did in 2018.
2019 was a tough year for both Nissan and its luxury arm Infiniti. The mainstream brand was down nearly 9 percent, to 1,227,973 units, and fell significantly behind Toyota (down 2 percent) and Honda (up 0.3 percent). Infiniti was hit even harder and declined 21 percent to a paltry 117,708 units, putting it well behind second-tier luxury brands including Acura and Cadillac, not to mention bigger players such as Lexus and Audi. Infiniti promises that new products are coming soon, but will it be soon enough?
Chevrolet fell further than GM's other brands in 2019, with a 4 percent decline to 1,958,925 units. The new Silverado pickups were down, and the discontinuation of the Cruze, Impala, and Volt nameplates led to a significant drop in volume. GM's overall sales dropped 2 percent, as slight increases from Cadillac and GMC were not enough to counter Chevy's declines.