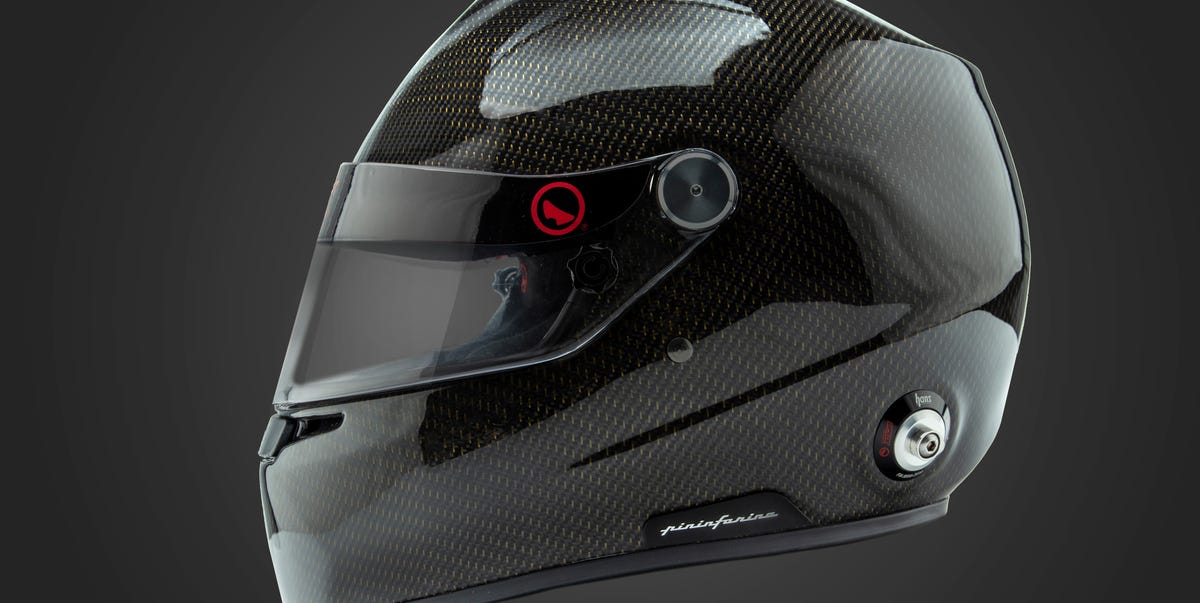 Pininfarina and Roux have created two new products: open-cockpit (Formula) and closed-cockpit (GT) racing helmets that let cooler heads prevail.

They feature Cool-X technology that recirculates water at 52 degrees.
Prices will range from $1200 to $5000, with the exact numbers to be announced in the spring ahead of a fall 2020 launch.
Pininfarina of America knows it is going to release a new line of helmets in partnership with Roux Racings SRL next year. It just doesn't know yet how much the helmets will cost, exactly.
Pininfarina and Roux debuted the new helmets—one intended for open-cockpit vehicles, the other for closed-cockpit racers—at the Performance Racing Industry trade show in Indianapolis earlier this month. A Pininfarina spokesperson told Car and Driver there will be a total of seven helmets, with prices ranging from around $1200 to $5000, depending on the material they are made of and the level of certification. Exact pricing will be announced in mid-spring 2020.
The open-cockpit helmets are designed for Formula 4 to Formula 1 racing, and come with removable aerodynamic spoilers that matter since these helmets will be in contact with the wind. The closed-cockpit GT helmets prioritize temperature control and have both a built-in air port and Roux's COOL-X integrated water-cooling system. The Cool-X technology recirculates water from a CoolShirt cooler and keeps "perfect-temperature 52-degree water flowing" in order "to keep heat stress low and you focused on your race," Roux says. A water-cooling system is included in the Formula helmets as well. This is the first collaboration of its kind between helmet specialist Roux and Pininfarina.
That's not all of the tech hiding in the new helmets. There's an integrated water drinking tube and an audio system made up of noise-canceling microphone and speaker pods, and all of the new helmets are "fully customizable," Pininfarina says.
The main purpose of a racing helmet, of course, is protection, and that's why the new helmets use Roux's proprietary Release system for quick removal in an emergency situation. Pininfarina says the placement of the HANS anchors has been optimized and the new trigger and visor rotating system "easily closes and opens in multiple positions." The designs for both Formula and GT helmets will meet the new FIA 8860 (2018) and Advanced Ballistic Protection (ABP) safety standards, as well as Snell's 2020 standards for homologation.
This is not Pininfarina's first exploration into helmet technology. A decade ago, the company introduced two Air Flow concepts. The first concept stood out thanks to a waterproof fabric covering an aerodynamic hard shell. The second focused on keeping the wearer's head temperature down, a trend that the new partnership is working on all these years later.