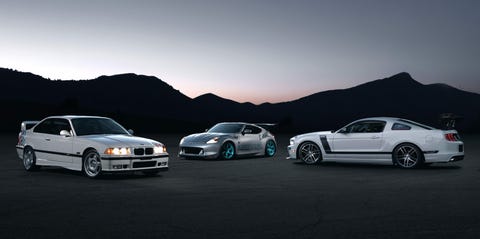 Brian C. Bossert/Barrett-Jackson
The late star of the Fast & Furious franchise had a penchant for performance cars, and 21 from his personal collection are going on the block at Barrett-Jackson.
The 21 cars going to auction include a 1995 Ford Bronco, seven BMW M3s, and a 2013 Ford Mustang Boss 302S.
They'll headline the Barrett-Jackson Scottsdale auction in Arizona in mid-January.
UPDATE 1/21/20: Paul Walker's collection was auctioned off at the 2020 Barrett-Jackson Scottsdale event, where five of his E36 M3 lightweights sold for a combined $1.3 million. One of them, with 4600 miles on the odometer, sold for $385,000. The collection also consisted of two E30 M3s, which sold for $220,000 and $165,000. Other cars sold from the late actor's collection included a 2009 Nissan 370Z from the film Fast Five, which sold for $105,600, and 1989 Nissan Skyline R32 and 2013 Ford Mustang Boss 302S race cars.
If you want a vintage Ford Bronco or BMW M3, it's not difficult to find one right now. But even better, you could buy one that was owned by the late Paul Walker, star of The Fast and the Furious. The collection assembled by the star, who died in a car accident in 2013, was heavy on performance cars and particularly E36 BMW M3s, of which there are five up for auction, along with two earlier E30 M3s.
These are among the 21 vehicles from his personal collection going on the block in January at the Barrett-Jackson Scottsdale auction.
Other cars on offer range from a 1963 Chevrolet Nova wagon and a 1967 Chevrolet II Nova to 2003 Ford F-250 and 2006 Toyota Tundra pickups. Buyers will also be able to bid on a 1989 Nissan R32 Skyline race car and a 2009 Nissan 370Z.
This 2013 Ford Boss 302S was a gift to Walker. Barrett-Jackson says the car, which is not street legal, has spent its life so far in storage and has never been raced. It's set up for it, though, with a 5.0-liter Ford Racing Motorsport V-8 paired with a Tremec six-speed manual transmission and all the Ford Racing equipment and software.
Among the M3s are two earlier E30 cars, the one above from 1991 and another dating to 1988, plus five 1995 E36 M3 Lightweights, which is a lighter, track-oriented version of the vehicle. The Lightweights are all powered by a BMW S50 240-hp 3.0-liter straight-six with a five-speed manual transmission.