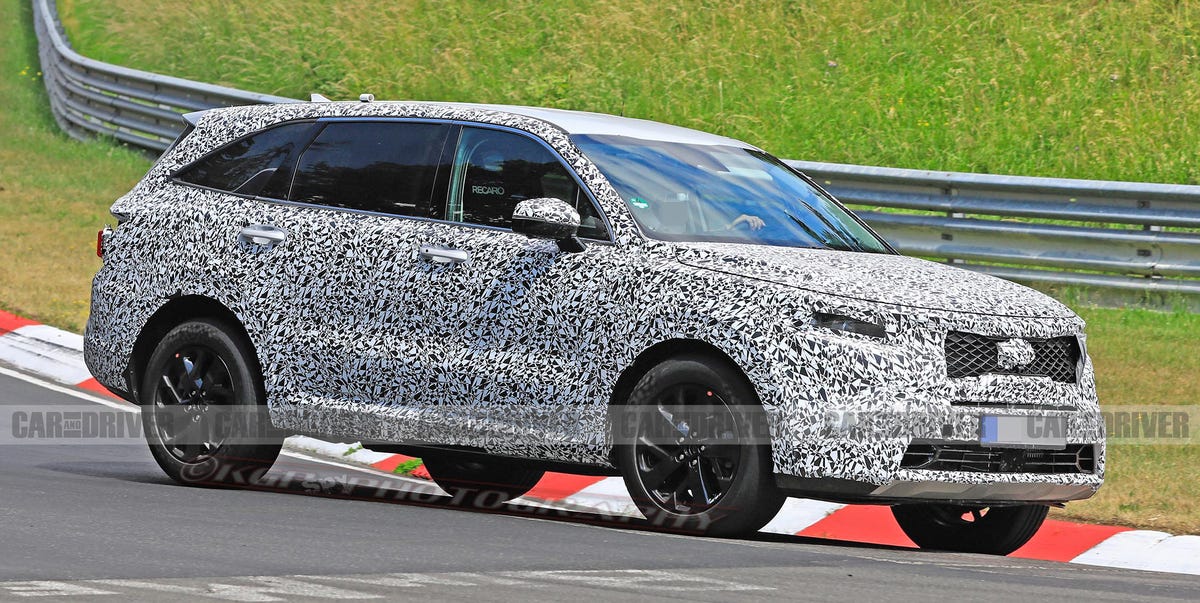 The next-generation Kia Sorento mid-size crossover will be available with both hybrid and plug-in-hybrid powertrains.
We've already seen spy photos of the redesigned Sorento, which will be related to the Hyundai Santa Fe.
Expect to see the redesigned model arrive in mid-2020 as a 2021 model.
Kia is planning to add both conventional hybrid and plug-in-hybrid powertrains to the Sorento mid-size SUV, according to Emilio Herrara, Kia Europe's chief operating officer, who confirmed these new models in an interview with Automotive News Europe. The Sorento hybrid and plug-in hybrid will arrive in 2020, Herrara said, in conjunction with the crossover's impending redesign.
We've already spied a prototype for the next-gen Sorento (pictured), giving us a hint at its updated styling. These multiple hybrid variants will make it a relatively rare proposition in the mid-size crossover segment. The only other similarly sized nonluxury models currently available as hybrids are the Ford Explorer and the Toyota Highlander, and the only nonluxury plug-in-hybrid SUV for sale in the U.S. is the Mitsubishi Outlander PHEV.
Herrara did not share any details about the hybrid drivetrains, but we expect that both the hybrid and plug-in-hybrid systems will use a four-cylinder gasoline engine rather than a V-6 for better fuel efficiency. Neither Kia nor its corporate cousin Hyundai has yet offered a hybrid version of a vehicle this large, so we imagine this system will be beefed up for SUV duties compared with the hybrid systems available in vehicles like the significantly smaller Niro crossover and Optima hybrid sedan.
The redesigned Sorento is likely to arrive within the next few months as a 2021 model, although it's not clear if the hybrids will launch concurrently with the nonhybrid models for the U.S. market.