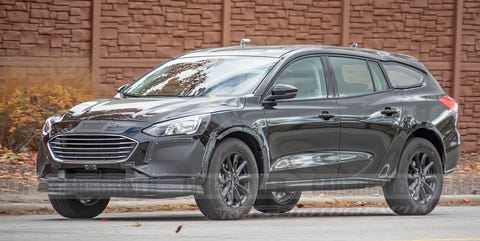 KGP PhotographyCar and Driver
Spy photos of a test mule and a report from Autocar lend more credence to the idea that a new lifted wagon model from Ford will take over the Fusion nameplate.
This Subaru Outback competitor will continue to be based on the Europe-market Ford Mondeo.
Look for it to arrive sometime in 2021, right around when the current Fusion sedan ends production.
We now have more proof that the Ford Fusion will soon be recast as a Subaru Outback–style lifted wagon, as was first reported in 2018. The evidence comes both from the spy photos of a prototype test mule you see here and from an Autocar report containing more information about the next-generation Ford Mondeo (the Fusion's Europe-market twin).
If you're a bit confused by the looks of this test mule, that's because it's using a modified body taken from the new Europe-market Ford Focus wagon. This Frankenstein-like creation, which is clearly stretched between the C- and D-pillars, does give us an idea of the size of this new model; its overall proportions and the large tires suggest that it will be a mid-sized crossover wagon larger than the compact Escape and possibly around the same size as the mid-size Edge.
The hot-selling Subaru Outback looks to be its primary target, and it's a sure bet that this reinvented Fusion will have a lifted suspension, all-wheel drive, and black plastic body cladding to adhere to that proven rugged aesthetic.
Autocar's report states that a new generation of the Mondeo, codenamed CD542, is launching in early 2021, and that this wagon variant is slated for the U.S. market. A new Mondeo sedan will be sold across the pond, but only the lifted wagon will make its way across the pond.
All signs point to it adopting the Fusion name, which carries a lot of equity in America. Ford even admitted back in 2018—when it first announced it was canceling all of its current passenger cars—that the Fusion name would likely be applied to a new bodystyle even after the current sedan model went out of production, which we now know will happen in 2021. That timing would coincide nicely with the arrival of this Fusion wagon.