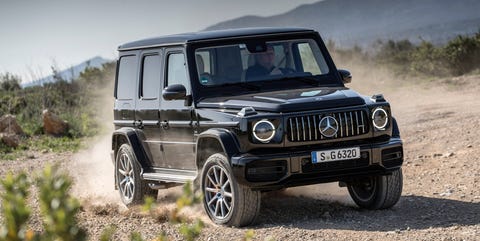 The ManufacturerCar and Driver
A Daimler spokesperson tweeted that Daimler CEO Ola Källenius plans to build an all-electric G-Class.
We can expect that the electric G-Class will be called the EQG.
If this is true, the EQG will most likely go to production no sooner than 2022.
Daimler CEO Ola Källenius said that Mercedes-Benz plans to build an electric G-Class, according to a tweet from Sascha Pallenberg, head of digital transformation at Mercedes, that was first posted on Motor Authority.
It's most likely that we'll see a plug-in-hybrid G-Wagen before we see an all-electric version. But when the electric version arrives, likely sometime around 2022, we can expect that it'll be called the EQG. After all, Mercedes' current electric SUV is called the EQC, and we've seen spy photos of the electric S-Class that's likely to be called EQS. In January, design chief Gorden Wagener told C/D that the EQC was "just the start. You will see some really progressive, cool designs."
If Mercedes puts an electric version of its iconic SUV into production, it won't exactly be the first of its kind. Austrian company Kreiel replaced the G-Class' internal-combustion engine with a battery and an electric motor and sold it to Arnold Schwarzenegger.