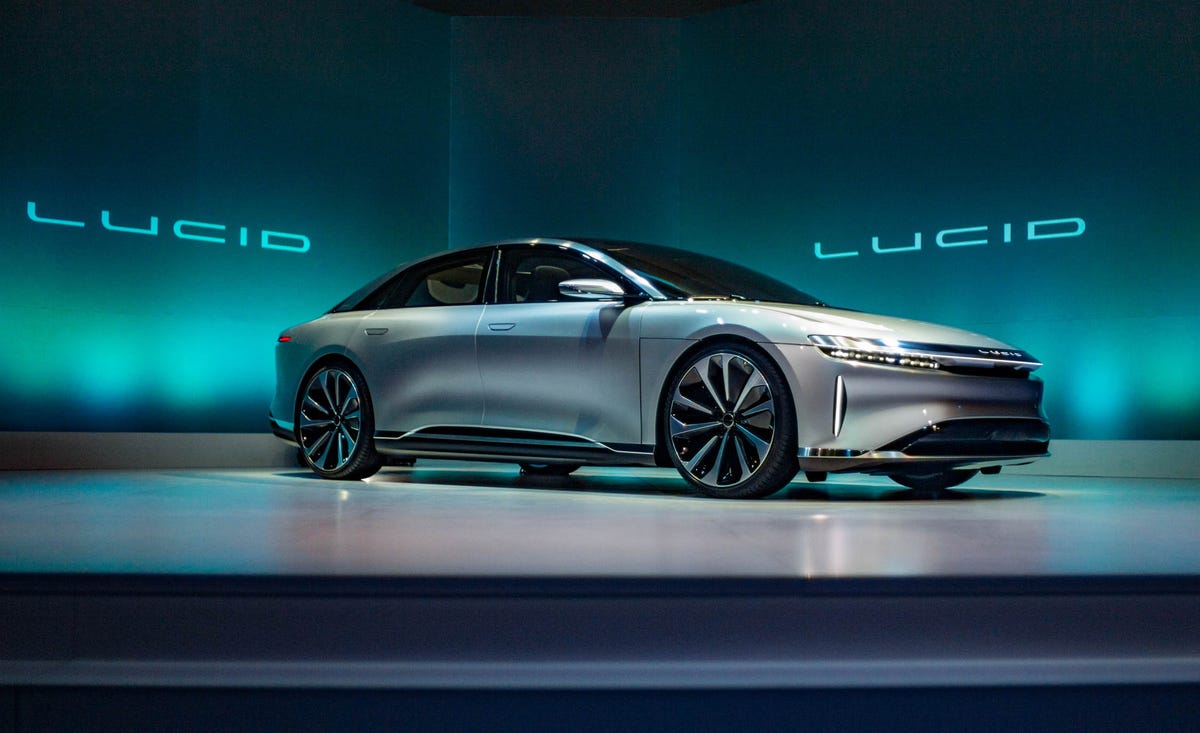 Saudi Arabia is already tightly involved with Lucid Motors, but rumors late last week that the government's Public Investment Fund wants to buy even more of Lucid's stock sent the price up 43 percent. It then backtracked a bit over the weekend.

The PIF owns over 60 percent of Lucid already and has promised to buy up to 100,000 EVs from the automaker over the next 10 years. Lucid has also announced it will build a plant in Saudi Arabia.
Also, last week, Lucid announced that it is providing a 469-hp electric drive unit for all Formula E race cars this season. The EDU includes a motor, inverter, differential, and transmission and will be used to capture braking energy.
Even with its vast oil reserves, Saudi Arabia is interested in electric vehicles. Whether it's a deal with
Canoo for fleet vehicles or the Saudi Ceer, an upcoming, home-grown mass-market EV scheduled to arrive in 2025 with help from FoxConn, Saudi Arabia is in the EV game. The country's relationship with Lucid is well established, and rumors that the Saudi government might increase its investment in the luxury automaker sent the stock price up 43 percent Friday, ending at $12.87.
Nothing has been officially announced regarding any such deal, but Reuters reported that Saudi Arabia's Public Investment Fund (PIF) is considering buying out the rest of Lucid's stock. Lucid's stock price dropped 4.5 percent over the weekend from the Friday high.
Last year, Lucid sold almost 86 million shares to a PIF affiliate for around $915 million. Lucid sold other shares to other groups, but the deal kept the PIF's overall investment in Lucid steady, at around 62 percent, according to CNBC. Last spring, Saudi Arabia's government announced it would buy between 50,000 and 100,000 Lucid EVs over the next decade. Lucid also announced it would build its second plant in Saudi Arabia. Last year, Lucid built a total of 7180 vehicles at its only plant in Arizona.
Lucid made news of another sort in the all-electric Formula E race series. The company announced that its in-house electric drive unit (EDU), which includes a motor, inverter, differential and transmission and produces up to 469 horsepower, will be used in every Gen 3 Formula E race car. Lucid said the EDU would provide regenerative energy recovery from the front wheels. The EDU will not be able to send all 469 horses to power the front wheels due to Formula E regulations, but Lucid has plans for the EDU's technology beyond Formula E.
Actually, in its announcement, Lucid technically didn't say anything about Formula E. Instead, it said the EDU could be found in the cone of every car in the "world's leading single-seater electric racing series," so, well, it's Formula E. Lucid has a history with the race series, having developed a battery pack that was used in previous Formula E seasons.
Lucid is highlighting the high power density of the EDU (6.7 hp per pound) in a unit that weighs just over 70 pounds and can spin up to 19,500 rpm. While not the same unit found in the Lucid Air electric sedan, some technologies, like the proprietary microjet cooling system, are found in both vehicles.
"I'm excited by the prospect that some of the technical advancements introduced may, in turn, make their way to future Lucid road cars," Lucid CEO Peter Rawlinson said in a statement. "For Lucid, the transfer of technology between motorsports and road cars is a two-way symbiosis."
Lucid builds each of the Formula E EDUs at its California headquarters.