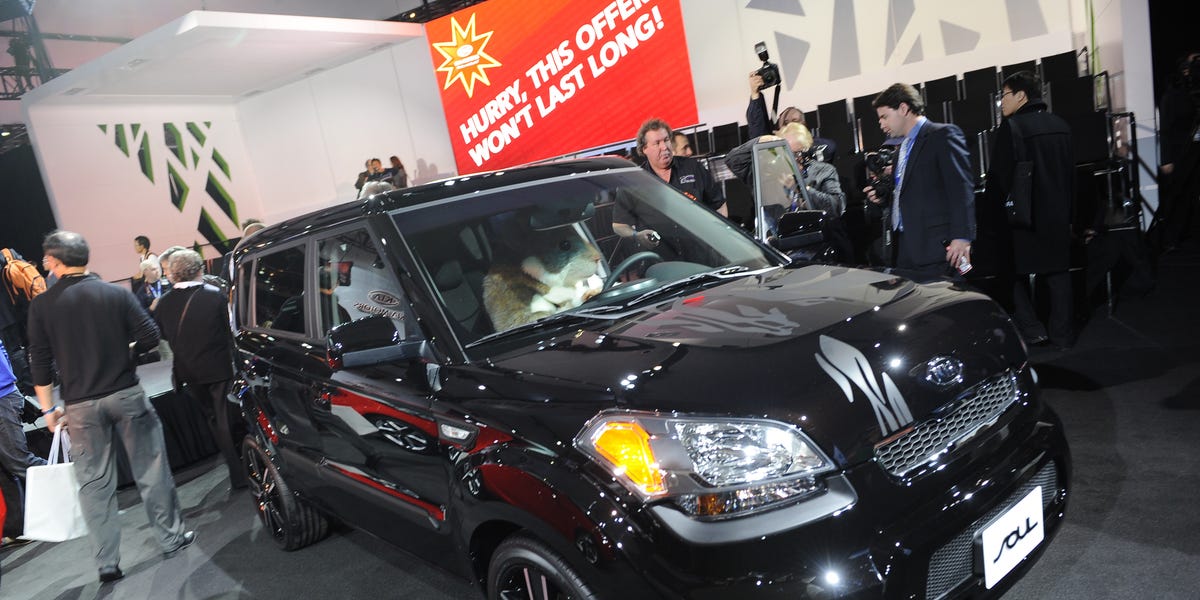 When it comes to looking for the best compact car, the Kia Soul and Honda Fit are both excellent options for car buyers. Both are affordable, modern, and come with unique features that make them stand out against others in this class. The Soul has one-of-a-kind interiors with lighting in almost every place around the cabin. The Fit excels in fuel economy, saving you more money at the pump, just as many Kia owners have come to expect. If you find yourself curious about the best options in the compact class, let's explore what both of these excellent vehicles have to offer you.
Introduction to the Kia Soul and Honda Fit
The Kia Soul, best known for its cube-like shape according to Carmax. While not aesthetically-pleasing to everyone, the boxy design maximizes storage and passenger capacity within the cabin. Because there's no curvature in the roof, passengers in both the front and rear have plenty of headspace and legroom. The Honda Fit, however, is a small, subcompact hatchback excelling n fuel efficiency. It has a surprising kick not seen in similar vehicles. In 2017, the base Fit trim included a 1.5-liter automatic engine and earned an estimated 36 miles per gallon.
Feature Comparison
Carmax says the Kia Soul comes with new standard features in its most recent line. One of the most unique is the interior lighting options. Almost every part of the cabin comes with optional lighting features that flow in sync with your music. It's an addition almost unheard of in this price range. Other features include:
Hill-start assist
16-inch wheels
Power accessories
Other features listed by Kia include:
10.25inch HD touch screen
Wireless charging
Apple CarPlay
Android Auto
Remote climate control
Amazon Alexa integration
Google Assistant integration
Heated front seat and steering wheel
The Honda Fit's focus has always remained in fuel efficiency according to Cars Direct. It delivers on Kia's promise of saving you at the pump. The redesigned Soul does have fuel efficiency options, but they don't come close to the Fit which gets an EPA-estimated 36 miles per gallon. This feat comes from the Fit's overall weight advantage as the Soul is about 300 pounds heavier.
Other features listed by Honda include:
7-inch touch screen
Apple CarPlay integration
Android Auto integration
HondaLink
Bluetooth streaming audio
Multi-angle rearview camera
Performance
Cars Direct says most Kia Souls come with a 147-horsepower engine. Additionally, the highest trim includes a turbocharged 201-horsepower unit. The Fit comes with only 130-horsepower in most models and can't match either of the Soul's options. Kia also has an excellent warranty plan, offering two additional years or 24,000 miles more than Honda's plan.
Despite this, the Honda Fit outperforms the Soul, according to Kelley Blue Book. It comes with a sportier suspension. The Kia Soul's block-like shape isn't quite as aerodynamic and causes poor handling. For the Kia to compete, it needs an upgraded trim that comes with a stronger engine, costing you more money.
Storage Capacity
The Kia Soul surpasses the Honda Fit in space, says Cars Direct. It comes with 24.2 cubic feet-worth behind the seats which is about eight more cubic feet than the Fit. Additionally, even with the Fit's rear seats folded, there's still 10 cubic feet less space.
The Honda Fit still has plenty of space to work with, according to Carmax. In total, it has around 53 cubic feet of available space. Honda accomplished this feat with what they call their Magic Seat innovation. This sophisticated seat can either flip up or fold completely flat, providing you with even more storage space.
Safety
Carmax lists that the Fit earned a five-star safety rating from the National Highway Traffic Safety Administration (NHTSA). Part of this score is that many of Honda's best safety features come standard in the Fit, including:
Anti-lock brakes
Stability and traction control
Front and side curtain airbags
Rear-view camera
Some Honda vehicles come with Honda Sensing, an advanced suite of safety features, according to Road Show by CNet. However, it won't be a standard feature on the Fit until 2022.
Carmax also lists the Soul as a winner of the five-star safety rating from the NHTSA. It comes with many of the same safety features as the Soul including:
Anti-lock brakes
Stability and traction control
Hill-start assist
Front and side curtain airbags
Kia's answer to Honda's safety suite is DRIVEWiSE Driving Assist. It comes with many standard options available in others safety suites such as forward collision-avoidance assist (FCA), lane-keeping assist (LKA), lane following assist (LFA), and more.
Pricing
Kia currently lists the Soul starting at $17,490, making it a very affordable compact. However, to get many of the features that make this car great, you must consider a larger price. However, Honda currently lists the Fit starting at $16,190, around $1000 less. It comes with many of the same amenities with a more affordable price tag.
Which Sedan is Best For You?
Carmax agrees that both the Kia Soul and Honda Fit come with a lot of great amenities. If you prefer advanced, high-tech features, the Kia Soul is your best bet. It has highly-customizable interiors that allow you to create the car of your dreams. Honda, however, delivers on practicality and spending less time at the pump with its Fit, making it a preferred alternative.
While the Kia Soul may be more expensive, Cars Direct says it's definitely worth the price. You get a beautiful, modern, stylish car with more power and additional cargo space. As an added bonus, Kia excels with its warranty plan, making the Soul a very attractive purchase.
Those looking for fun features find themselves at home in Kia Souls. If fuel efficiency is high on your list, then try the Honda Fit.
Sources:
https://www.carmax.com/articles/honda-fit-vs-kia-soul
https://www.carsdirect.com/compare/kia-soul-vs-honda-fit
https://www.kia.com/us/en/soul
https://automobiles.honda.com/fit
https://www.kia.com/worldwide/experience_kia/drive_wise/driving_assist.do
https://www.kbb.com/articles/comparison/honda-fit-vs-kia-soul-comparison/