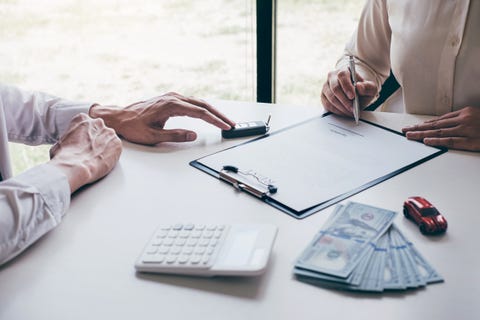 Ngampol Thongsai / EyeEmGetty Images
Is it illegal not to have car insurance? Yes, federal law requires all drivers to have car insurance so the interests of pedestrians and other motorists are protected in a crash. Most states have laws that mandate car insurance as well, with each state establishing its own required coverage amounts and penalties for failure to have insurance. In a few states, including Alabama and Arizona, you can purchase a state bond or fund that will cover the costs of an accident instead of purchasing a traditional auto insurance policy.
Purpose of Car Insurance
Car insurance covers the cost of property damage and injuries resulting from a motor vehicle accident. According to Finder, drivers can also purchase policies that cover incidents like fire and theft as well as vandalism and minor fender benders. Your car insurance policy will cover you when you drive your car as well as if you drive another person's car.
Some states also require underinsured or uninsured motorist coverage in addition to liability coverage. You must also opt for collision coverage that will pay for damage to your own vehicle in an accident for which you were at fault.
Car insurance is one of the biggest costs associated with owning a car. However, the financial costs of getting in an accident without insurance far outweigh the savings of driving illegally without insurance. These include the legal penalties as well as the other driver's damages and potentially your own medical and property damage costs. Insurance rates tend to get lower over time, especially if you do not have an accident.
According to Compare.com, the average U.S. auto accident claim when bodily injury occurs is more than $15,000, and the average property damage liability claim is more than $3,600. Some drivers have even been sued for millions of dollars.
Penalties for Failure to Have Car Insurance
While each state establishes its own penalties for auto insurance violations, most states have significant fines for lack of insurance coverage. According to Agent Insure, the driver may also face license suspension, coverage denial if he or she has an accident, and full responsibility for medical and property damage costs in an at-fault accident. The other driver can sue you for the costs he or she incurs in this type of accident, so insurance provides financial protection from this type of lawsuit. Depending on the circumstances, the costs could range from a few hundred dollars to hundreds of thousands of dollars in cases involving significant personal injury.
New Hampshire is the only state that does not penalize drivers who do not have insurance coverage. Tennessee has one of the lowest ticket costs in the nation for this violation ($25), while fines can be up to $5000 in Massachusetts. Some drivers may even face jail time for failure to have car insurance. Check with an insurance company that services your state to learn more about minimum coverage laws.
The minimum coverage required to legally drive will typically be the most affordable option in your state. However, you have to maintain coverage by paying the monthly or quarterly premiums. If your coverage lapses because payment is past-due, you have no legal coverage and can also be cited if you are stopped by a police officer.
According to The Zebra, the following states mandate license suspension for motorists who drive without minimum auto insurance:
Alaska
Wyoming
Arizona
Wisconsin
California
West Virginia
Colorado
Virginia
Connecticut
Vermont
Delaware
Utah
Florida
Texas
Georgia
Tennessee
Hawaii
South Dakota
Idaho
South Carolina
Illinois
Rhode Island
Indiana
Pennsylvania
Iowa
Oregon
Kansas
Oklahoma
Kentucky
Ohio
Maine
North Dakota
Massachusetts
North Carolina
Michigan
New York
Minnesota
New Jersey
Mississippi
Nevada
Missouri
Nebraska
Montana
If an officer pulls you over for driving without insurance, he or she could tow your vehicle. You would then be responsible for towing and impound costs. Louisiana and some other states have a law called "no pay, no play" which prevents uninsured drivers from receiving any insurance settlement after an accident even if the other driver was at fault. According to The Balance, some states may also suspend your vehicle's registration for driving the car without insurance.
Insure.com notes that fines for driving without insurance are higher in Delaware than in any other state. The first offense carries a fine of $1500 to $2000, and a second offense and all subsequent offenses within the same three-year period carry a $3000 to $4000 fine as well as license suspension. The lowest fines are in Idaho, which currently charges $75 per offense, and Tennessee, where fines for driving without insurance start at $100. In most states, providing a law enforcement officer with false proof of insurance constitutes a felony offense.
States That Do Not Require Auto Insurance
New Hampshire does not mandate car insurance for drivers, but they must be prepared to pay up to $25,000 in property damage and $50,000 for liability if they cause an accident. Otherwise, license and registration suspension will result.
In Virginia, you can pay the state $500 a year in lieu of having auto insurance. However, you will not have financial protection if you do get in an accident.
In other states that do not mandate insurance, drivers must carry a bond that indicates financial responsibility for an accident. They are required to show these documents if they are stopped by law enforcement.
Driving Another Person's Car
According to Compare.com, many drivers wonder if they need insurance when they don't own the car but often borrow a friend or family member's vehicle. In most cases, the other driver's insurance will cover liability claims if an accident occurs, as long as you had permission to drive the vehicle.
Letting Insurance Lapse
According to The Balance, many drivers who receive a citation for driving without insurance were not aware that their policy has expired. Policy lapse often occurs when a person forgets or does not have money to pay the premium, has a nonworking car, or no longer has a vehicle. If you let your insurance lapse, you may be considered a high-risk driver when you try to reinstate your policy.
In most states, it is illegal for drivers to take the road without car insurance. However, drivers that do not own a car may be covered by the car owner's policy if they have permission to drive the vehicle.
References
https://www.agentinsure.com/InsuranceTips/AutoInsurance/ConsequencesOfNotHavingCarInsuranceInYourState
https://www.thezebra.com/auto-insurance/consequences-of-driving-without-insurance/
https://www.compare.com/auto-insurance/coverage/driving-without-insurance
https://www.insure.com/car-insurance/penalties-for-driving-without-insurance.html
https://www.thebalance.com/avoid-a-car-insurance-lapse-527455