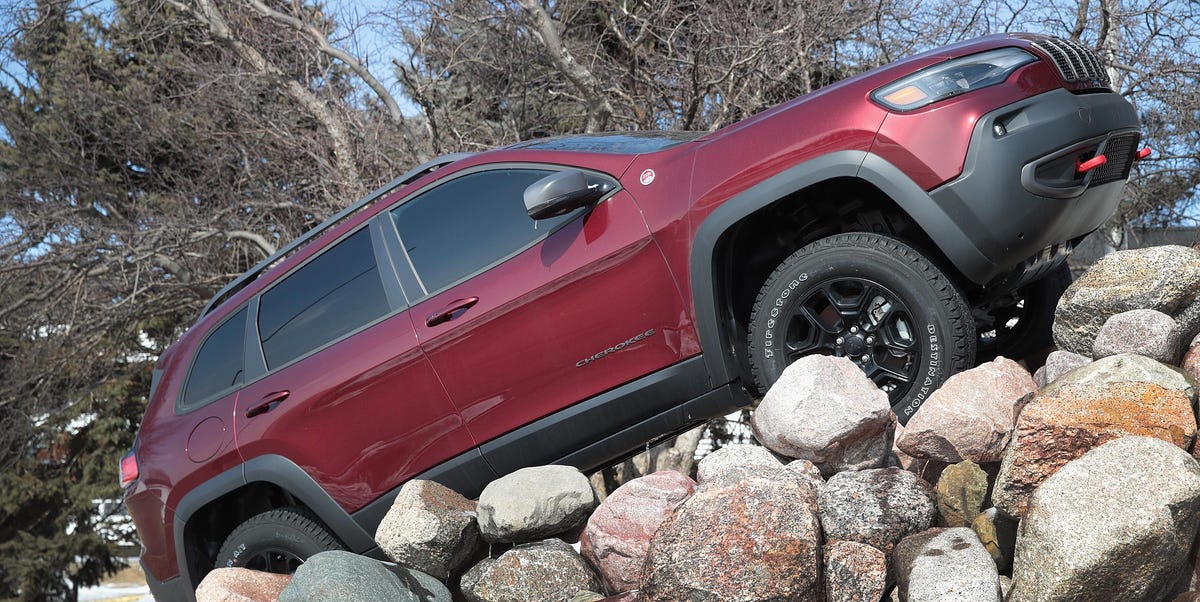 According to Quote Inspector, the average auto insurance for Jeep Grand Cherokee costs $118 monthly or $1414 annually. However, various factors determine the actual premium you'll pay to purchase insurance for this popular SUV.
Average Jeep Grand Cherokee Auto Insurance Rates
The website Compare Auto Insurance cites data from the National Automobile Dealers Association (NADA) that estimates about $5000 as the average five-year cost to insure a Jeep Grand Cherokee. This number assumes the driver has a base model and pays about $86 a month or $1000 a year for auto insurance. However, NADA notes that the average premium rises to $250 a month for drivers who have been on the road less than three years.
Cheap Car Insurance reports that Louisiana drivers pay an average of $183 per month to insure a Jeep Grand Cherokee while Maine drivers pay just $66 per month. In between, the average Grand Cherokee driver across the U.S. pays a $108 premium per month.
Factors in Jeep Grand Cherokee Insurance
The loss rate of the Jeep Grand Cherokee influences how much auto insurance companies charge for different aspects of coverage. The higher each of these percentage areas, the higher the cost of that type of insurance for this model. Quote Inspector breaks it down as follows:
Medical payment insurance: 40 percent
Personal injury protection (PIP): 38 percent
Comprehensive coverage: 29 percent
Collision coverage: 19 percent
Property damage coverage: 11 percent
Bodily injury coverage: 6 percent
In addition to coverage type, insurance companies will consider the age of your Jeep when quoting your policy. Expert Insurance Reviews reports that you'll pay an average of $1156 for an annual policy for a 2010 Grand Cherokee, compared to $1414 per year for the 2020 model.
The website also stresses the importance of the driver's age in insurance coverage costs. On average, a 20-year-old driver will pay more than $1730 per year more to insure a Jeep Grand Cherokee than a 30-year-old driver with the same make and model. Your policy price will go up if you have violations on your driving record; drivers in their teens and 20s will experience an especially steep increase for claims.
High-risk drivers of all ages, defined as individuals with at-fault accidents and violations, pay an average of $1600 to $2300 per month for auto insurance. This represents a rate of up to 128 percent more than the average for a driver with a clean record.
If you live in an urban area, you'll pay more for auto insurance than you would in a suburb or rural community. That's because insurance companies pay out more claims for customers in cities than they do for those who reside in less congested areas.
The average cost may also vary dramatically based on the insurance laws in your state. For example, the average to insure a Grand Cherokee for a year is just over $1000 in Missouri, New Hampshire, and Vermont. Residents in Michigan, New York, and Louisiana will pay closer to $2000 for a comparable policy. Jacksonville drivers pay about $850 more per year than drivers in Indianapolis do.
Insurance Cost for the Grand Cherokee vs. Competitors
Expert Insurance Reviews found that insurance premiums for the Jeep Grand Cherokee were in the middle of the pack compared to those of other large SUVs. The averages by company for different types of coverage are as follows:
Jeep Grand Cherokee: $322 for comprehensive coverage, $562 for collision coverage, $372 for liability coverage, $1414 total per year
Mitsubishi Outlander: $306 for comprehensive coverage, $542 for collision coverage, $332 for liability coverage, $1316 total per year
Ford Flex: $332 for comprehensive coverage, $566 for collision coverage, $398 for liability coverage, $1454 total per year
Buick Enclave: $348 for comprehensive coverage, $594 for collision coverage, $372 for liability coverage, $1472 total per year
Honda Passport: $352 for comprehensive coverage, $656 for collision coverage, $316 for liability coverage, $1470 total per year
Audi Q7: $394 for comprehensive coverage, $714 for collision coverage, $398 for liability coverage, $1664 total per year
Cadillac Escalade ESV: $464 for comprehensive coverage, $720 for collision coverage, $390 for liability coverage, $1732 total per year
How To Save on Jeep Grand Cherokee Insurance
If you want to save money on your auto policy, try these strategies:
Stay accident-free for as long as possible. Take a defensive driving course if you find you have minor fender-benders every few years that drive up your rate.
Renew your coverage on time, every time. Even a lapse in insurance of a day or two can have a serious impact on your rate. You might even qualify for a lower rate for renewing your policy early.
The same goes for paying your premium. Late fees add up and you could even lose your policy.
Take public transportation when you can. You might qualify for a mileage discount on your Jeep insurance.
Pay for your entire premium in advance. Doing so will save you money on fees and finance charges.
Increase your liability protection. Doubling the minimum amount can reduce your annual insurance premium by up to $570.
Shopping around by getting quotes from several different companies also increases your chances of getting an affordable insurance rate. Every insurer uses a different formula to calculate quotes.
Jeep Grand Cherokee Safety Ratings
Car insurance rates vary based on the vehicle's crash test ratings. The Jeep Grand Cherokee has the highest score of "Good" from the Insurance Institute for Highway Safety (IIHS) for head restraints, seats, roof strength, side impact, and moderate overlap front impact. However, insurance rates may increase because of the IIHS rating of Marginal in the driver-side small overlap front crash test and Poor in the passenger-side small overlap front crash test.
The National Highway and Traffic Safety Administration gives the following Jeep Cherokee models a five-star overall safety rating:
The 2020 Jeep Grand Cherokee Trackhawk
The 2019 Jeep Grand Cherokee
The 2017 Jeep Grand Cherokee
The 2016 Jeep Grand Cherokee with four-wheel drive
Other Grand Cherokee models dating back to 2016 either have a four-star overall safety rating or were not rated by the NHTSA.
There are a wide range of insurance options available for your Jeep Grand Cherokee, so it's a good idea to compare to see which specific company and policy is best for your specific situation.
Sources:
https://www.expertinsurancereviews.com/jeep-grand-cherokee-insurance-cost-estimate/
https://www.quoteinspector.com/insurance/vehicles/jeep/grand-cherokee/
https://www.compareautoinsurance.com/how-much-is-auto-insurance-for-a-jeep-grand-cherokee/
This content is created and maintained by a third party, and imported onto this page to help users provide their email addresses. You may be able to find more information about this and similar content at piano.io