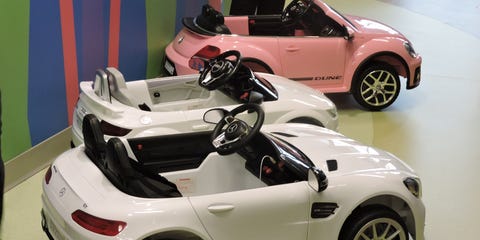 Cooper University Health Care
Heading into surgery doesn't usually involve a test drive of a new luxury car, but that's what's happening now for young patients at Children's Regional Hospital at Cooper in Camden, New Jersey. A local auto dealership has donated three battery-powered toy cars—an Audi TT RS, a Mercedes-Benz AMG GT coupe, and a Volkswagen Beetle Dune—for kids to drive themselves through the hospital.
The benefit to the young patients is not about the brands, but the way to calm nerves.
"Surgery is stressful for everyone, but these cars are a wonderful way to relieve a child's anxiety anticipating surgery," Susan Bass Levin, CEO of the Cooper Foundation, the philanthropic and community outreach arm of Cooper University Health Care that facilitated the donation, told Car and Driver. "The children love the cars. Riding in and driving a car is exciting for everyone, at whatever age, and kids are no different."
Levin said that when children get behind the plastic wheels, they feel a sense of control over their situation. This then takes some of the fear of the hospital away, and then helps promote healing and recovery. For children who cannot drive the toy cars themselves, parents or hospital staff can operate them via remote control.
"And of course, when a parent sees their child having fun, it puts the parents at ease, making it a better experience for everyone," Levin said.
In the past, the hospital has used hand-drawn wagons to transport kids to procedures, but when a hospital executive heard of a hospital in California that had little electric cars, they wanted in on the action. The owners of the local Cherry Hill Imports Auto Group—which sells Audi, Mercedes, and VW plus Porsche, Jaguar, and Land Rover brands—happen to be members of the hospital's Foundation Board, and they were asked to donate the cars, which they did.
Kid-size cars have been adopted by other hospitals in places from France to California, as well as the Royal Manchester Children's Hospital in England, which lets kids opt for a Mercedes-AMG G63, as the video below shows.