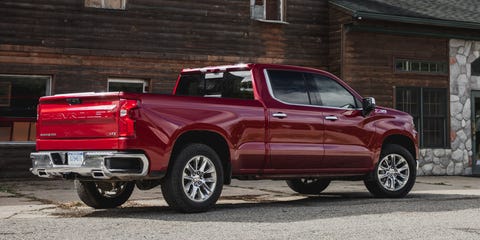 Michael SimariCar and Driver
New-gen Chevrolet Silverado and GMC Sierra pickup trucks have software errors that may disable ESP and the ABS. Others may cause stalling and engine fires. Some trucks are affected by both problems.
GM did not say how many of the 2019 and 2020 model trucks are still in dealer inventory.

A tiny group of Cadillac CT6 sedans are also affected.
General Motors is recalling more than 700,000 pickup trucks in the U.S. for software errors that can disable critical safety functions and, separately, for glue on battery cables that can cause fires, according to filings with the National Highway Traffic Safety Administration (NHTSA).
On 2019 Chevrolet Silverado 1500 and GMC Sierra 1500 models, a fault in a brake ECU can disable both the anti-lock brakes and the stability control without warning, and without any warning light or message to indicate that these systems are completely off. Fewer than 1000 Cadillac CT6 sedans from the 2019 model year with the four-cylinder and V-8 engines are also included. A total of 463,995 vehicles are affected.
GM said it discovered the issue from the brake ECU's supplier, ZF TRW, last month. Dealers will update the software starting in late January.
Another 350,371 Silverado 1500 and Sierra 1500 trucks from both 2019 and 2020 may have excess glue on the positive terminals connecting the alternator to the main battery. This glue can cause an "intermittent electrical connection" that may lead to warnings on the instrument panel that say "Service Battery" or "Battery Saver." The poor connection can also cause a heat buildup that can soften the bolt attaching the terminal and unthread it, causing a stall. Or an electrical arc might occur and melt other parts in the engine bay and start a fire. GM's Canadian division first reported the issue in August after a 2019 Sierra 1500 stalled due to a missing nut. Dealers will inspect for any excess glue and replace any damaged components starting in late January.
There have been no reports of accidents or injuries related to these defects. Due to the overlap in production dates cited in these two recalls, it is highly likely that some of the 2019 trucks—by our estimate, more than 90,000—have both defects instead of just one. Our estimated total above reduces the potential double-counting of the total affected trucks.