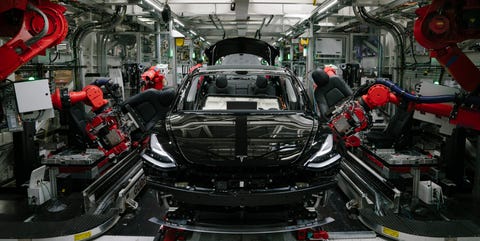 The Washington PostGetty Images
Tesla already has factories in the United States (that's the Model 3 under construction at the Fremont, California, plant shown above), China, and soon Germany.
CEO Elon Musk routinely announces news via Twitter, and a new factory could help the company keep up with battery demand for new products.
This might be the factory President Trump was talking about last month.
Tesla CEO Elon Musk has once again turned to Twitter to maybe announce some news about his company. Musk tweeted only two words, "Giga Texas," and a poll with the choices "Hell Yeah" and "Nope." Apparently that's all you need to make major investments these days.
Tesla has not officially announced any additional Gigafactories beyond the ones already built and under construction. The company has three facilities in the United States, as well as a new one near Shanghai in China and one about to be built outside Berlin, Germany. An additional facility could help the company keep up with the demand for its future products. During the company's fourth-quarter financial call at the end of January, Musk stated that the company will only be building a few of its electric Semi trucks because most of its battery output will get used in the Model 3 and the upcoming Model Y.
During the call, Musk also announced a Battery Day to take place possibly in April. The event would more than likely be a chance for the company to explain how it produces batteries. It would also be an ideal event to announce a new battery production facility in Texas, but that's just speculation on our part.
This potential Texas Gigafactory might be what Trump was talking about last month, although it's still unlikely that the company would build a facility in the Lone Star state simply because, as Trump put it, "He has to. Because we help him, so he has to help us."