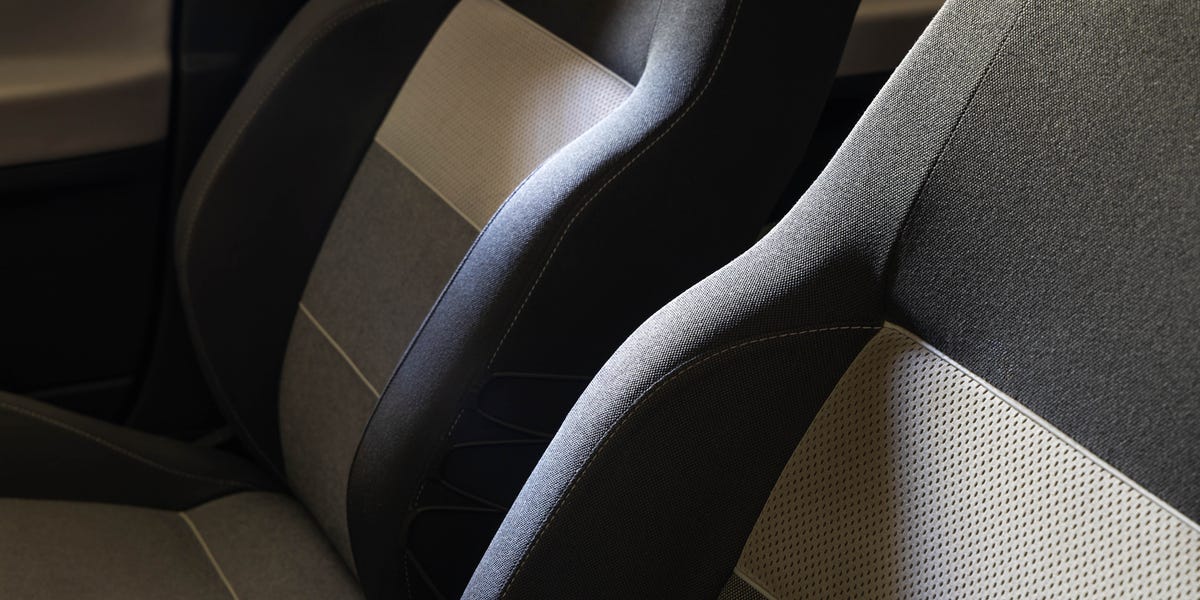 Car seat covers shield your vehicle's upholstery from unsightly messes and spills. Installing covers can preserve the beauty and value of your car while expressing your aesthetic preferences. Review our guide to the top car seat covers based on customer ratings and recommendations from well-regarded industry sources such as Popular Mechanics, Forbes, and the team at Autoweek.
What Are Car Seat Covers?
Car seat covers prevent stains, spills, crumbs, dust, dirt, and debris from marring the cloth or leather seating surfaces in your vehicle. In addition to mess protection, the benefits of buying seat covers for your car include:
Easy to clean either with a damp cloth or by removing and placing in the washing machine.
Slower depreciation as you maintain your car's factory condition.
Customized appearance that enhances the style of your vehicle.
Parents and pet owners can especially benefit from seat covers that ward off pet hair, sticky fingers, and messy spills.
Types of Car Seat Covers
Drivers can choose between two main types of car seat covers:
Universal
Some covers, like the highly rated Weather Tech Seat Protectors, offer a universal fit that works with most vehicles. The comfortable, stain-resistant, water-repellant polycotton twill covers simply slip over front or rear bench or bucket seats and attach to the headrest. A nylon lining provides even more protection while a nonslip backing keeps the seats securely in place. The covers remove for easy cleaning and come with a lifetime limited warranty.
Custom
You can also choose covers made specifically for your car. Forbes names the EKR Leatherette Custom Fit Full Set Car Seat Covers the best option for car owners who want to preserve their vehicles' factory appearance. These covers, designed to fit your car's make and model perfectly, have hundreds of five-star reviews on Amazon thanks to their sleek look and high-quality construction. They are easy to clean and resist water and spills. They come with a full set of front and rear custom seat and headrest covers, with two-year warranty protection against defects.
[product contentProductId='391c2453-7124-4185-a77c-8fa7aee8e0db' mediaId='a7c3f4c9-c43f-4e04-8ac5-3c5e0b48bcbd' align='center' size='medium'][/product]
How to Choose Car Seat Covers
Fabric selection is the primary concern when choosing car seat covers. You have a diverse range of options, including neoprene, vinyl, faux leather, and polyester. You can select a color that matches your upholstery for a factory look or put your own spin on your car's cabin with a complementary color and style. Some car seat covers come in a set of two or four while others are sold as separate units.
Popular Mechanics recommends Oasis Auto Faux Leatherette Seat Covers for car owners who want a luxe look and feel. They provide a universal fit and come in tan, black, brown, burgundy, and black with vibrant red piping. Oasis also offers a 30-day money-back guarantee on these seat covers, which have nearly 2,300 five-star ratings on Amazon.
If price is a concern, Forbes names the PIC AUTO Car Seat Covers Full Set for Auto, Truck, Van, SUV as the best value choice among universal seat covers. These polyurethane covers come in your choice of deep red, black, or brown on black for a sporty two-toned look. They feature double-stitched seams for added comfort and durability and accommodate both air bags and infant car seats seamlessly. The kit comes with two front seat covers, one rear seat top and bottom cover, and five detachable headrest covers.
To add an eye-popping splash of color to your vehicle, consider the FH Group Seat Cover Combo Set with Steering Wheel Cover and Seat Belt Pad. This universal-fit car cover set comes in a wide range of hues, including two-tone electric blue and black, pink, lime green, neon orange, and purple and sophisticated neutrals like burgundy, tan, and black on black. These covers have more than 10,000 five-star Amazon reviews, plus the stamp of approval from Forbes. They are made from breathable, high-quality machine washable fabric with easy installation thanks to adjustable straps and hidden velcro. The set comes with two front bucket seat covers, a rear seat bench cover, four seatbelt pads, a rear bench cover, and five headrest covers.
For car seat covers you won't be able to distinguish from real leather, try the LUCKYMAN CLUB 5 Car Seat Covers Full Set with Waterproof Leather. These seat covers, which fit most cars, sedans, and SUVs, are made from high-quality waterproof PVC that easily wipes clean with a damp cloth. Choose from solid black, black with red piping, black with blue piping, light gray, or charcoal gray depending on your preferences.
If you're interested in making eco-friendly purchases, consider seat covers made from sustainable buckwheat fabric. Suninbox Buckwheat Hull Bottom Universal Car Seat Covers might sound unusual, but they have hundreds of five-star reviews on Amazon from satisfied buyers. Suninbox claims these covers fit 96% of current vehicle models. Buckwheat hulls with soft linen covers offer comfort, protection, flexibility, and natural ventilation, even molding to the shape of your body with repeated use.
Our pick in the waterproof neoprene cover category is the Gorla Gear Black Premium Universal Fit Waterproof Stain Resistant Car Seat Cover. Marketed to drivers with kids and pets, this cover has more than 5,000 five-star reviews from Amazon customers, earning it the site's coveted Amazon's Choice designation. It also comes in a diverse selection of colors and patterns, including pink, camo, gray, black, and beige. These covers feature nonslip backing for a perfect fit and full protection from water, sweat, and moisture. They also come with a lifetime replacement guarantee.
[product contentProductId='4e96f1a2-3764-4627-bb25-58545909e20f' mediaId='9c25b9a9-5c19-4f72-a49d-d44d0fcf38f0' align='center' size='medium'][/product][product contentProductId='d57d1a1f-547d-47aa-8e7d-932bae9fad1f' mediaId='455b2a50-abd8-4825-b305-0c0819a65f2a' align='center' size='medium'][/product][product contentProductId='145f8249-c7a7-46f1-b450-7c55fc762ba0' mediaId='6796f2ef-0fe1-49ef-b980-2c33935fa468' align='center' size='medium'][/product][product contentProductId='2b9a90fc-aea5-4824-8ffc-4e1e7cfd9cfb' mediaId='0379d23e-f98b-44ac-89f1-542dc8aeb3be' align='center' size='medium'][/product][product contentProductId='3d6fa6bd-7edc-44d4-95ba-4ea4d270d8b1' mediaId='ae74662e-b7b1-434d-8cfc-9239eac8397d' align='center' size='medium'][/product][product contentProductId='9f40d7c5-dfea-4a54-b040-a0b45fae4f7e' mediaId='f1a198af-1f78-464d-ad03-5bb95e95dcaa' align='center' size='medium'][/product]
How to Replace/Install Car Seat Covers
Disclaimer: The guidelines in this story are general and not meant to replace instructions for your specific vehicle. Please consult your owner's manual or repair guide before attempting repairs.
Follow the instructions that come with your car seat covers for easy DIY installation. Most covers slip over the back of the seat and attach with elastic or Velcro straps. Seats made specifically to fit your vehicle may require a different installation process.
This content is created and maintained by a third party, and imported onto this page to help users provide their email addresses. You may be able to find more information about this and similar content at piano.io