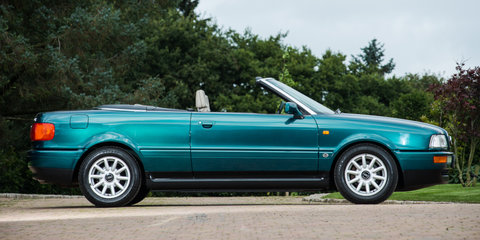 Everyman Classic Car Auctions
The late Diana, Princess of Wales, was often photographed in 1994 at the helm of her Audi 80 cabriolet, which is now set to roll across the auction block.
The right-hand-drive Audi 80 is painted dark green with a white interior and shows 22,000 miles on its odometer.
The car, which has gone through several other owners, is expected to sell in the range of $46,000 to $52,000 at the Practical Classics Classic Car and Restoration Show.
In this week's edition of British royal family news, we're not going to be discussing the dramatic exit of Harry and Meghan from their official duties, but something far more interesting: the news that the 1994 Audi 80 cabriolet that once belonged to Diana, Princess of Wales, is going up for auction in March.
In the summer of 1994, the tabloids frequently featured pictures of Princess Diana motoring around London in the green Audi 80, occasionally with Prince William and Prince Harry sitting in the back seat. The photo above, showing the late princess getting into the Audi, was posted on an Audi 80 cabrio fan page on Facebook. That same Audi is going to roll across the auction block in March at the Practical Classics Classic Car and Restoration Show 2020, taking place in Birmingham, England, the weekend of March 27–29.
Diana returned the vehicle to the Audi dealership that had gifted it to her when it had only 4000 miles on the odometer. In driving an Audi at all, she bucked the trend of British royalty driving British luxury cars—Land Rovers, Jaguars, Aston Martins. Her choice of vehicle caused sales numbers for the Audi 80 to jump at the time; such was the popularity and influence of the woman known as the People's Princess.
Diana's specific model was painted in a dark green called Gomera Pearl, with a Parchment leather interior, and despite passing through a few different owners, it appears to have aged gracefully. It is powered by a naturally aspirated 2.3-liter inline-five that produces 131 horsepower and 137 lb-ft of torque; shifting duties are handled by a four-speed automatic transmission. As it was sold in the United Kingdom, this model is a right-hand driver.
The next owner after Diana was was conservative political commentator Iain Campbell-Dale, and after his tenure with the car, it spent time in various private collections. The odometer currently says the car has been driven 22,000 miles.
This little piece of British royal history is expected to sell in the range of about $46,000 to $52,000. Having been built in 1994, the Audi 80 cabriolet is more than 25 years old and is therefore eligible to be imported to the United States.