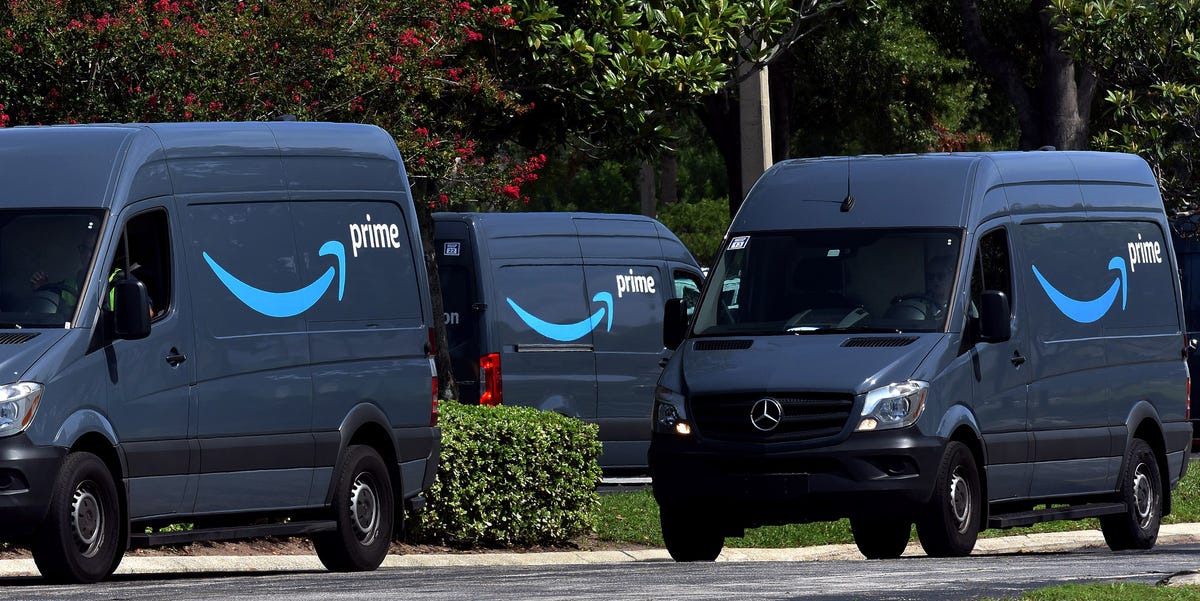 For the auto industry, it's Prime Day every day when Amazon needs more delivery vans for its ever-growing fleet.

Delivery-van sales are up for Daimler, Fiat Chrysler, and Ford in 2019.
The look of Amazon's fleet will change once it gets the 100,000 Rivian electric vehicles its already ordered.
If you think you've been seeing more of those dark-gray Amazon delivery vans on the roads recently, you're not wrong. But they're delivering more than packages. As the vans head out, they're also delivering for the auto industry. After all, someone had to buy the vans in the first place.
It's no surprise that the 13th-largest company in the world (as calculated by Fortune) needs a way to get your packages to you. Today, Amazon's transportation fleet is made up of 30,000 Amazon-branded delivery vehicles and 20,000 branded trailers, and those numbers are only going to grow. For example, Amazon has ordered 100,000 new electric delivery vehicles from Rivian, the startup automaker in which Amazon has invested $700 million, and this order is the largest ever for electric delivery vehicles.
While those Rivian orders will obviously help Rivian's bottom line, the 30,000 delivery vehicles Amazon uses today that have already helped other automakers that sell vans to the retail giant, in particular Daimler's Mercedes-Benz (Sprinter), Fiat Chrysler (Ram ProMaster), and Ford (Transit).
Automotive News says sales of all three of these vans are up this year, with the Sprinter up almost 3 percent year over year in 2019, Ram's ProMaster up 25 percent from 2018, and the Transit having a record third quarter. In fact, it's likely going to be a record year for fleet sales in general, according to Automotive News. It's not just Amazon: other companies, rental-car agencies, and governments have already purchased 2.6 million units for their fleets through November, the paper says, citing Cox Automotive data.
Daimler would not specify how many vans it has sold to Amazon or its delivery partners, sending Car and Driver the same statement it sent to Bloomberg: "We are in constant contact with our customers as we work to fulfill our commitments to them. We kindly ask for your understanding regarding our policy not to comment in detail to third parties on our customer relationships. In general, units only appear in our sales figures upon delivery."
Amazon says that its last-mile delivery network is going to end up delivering 3.5 billion customer packages around the world this year. In the U.S., those packages get sent out from 150 domestic delivery stations that employ more than 90,000 people. On top of this, Amazon says there are more than 800 Amazon Delivery Service Partners in its last-mile network, which employ an additional 75,000 drivers in the United States. After all, somebody's got to deliver all those holiday gifts you ordered at the last minute.