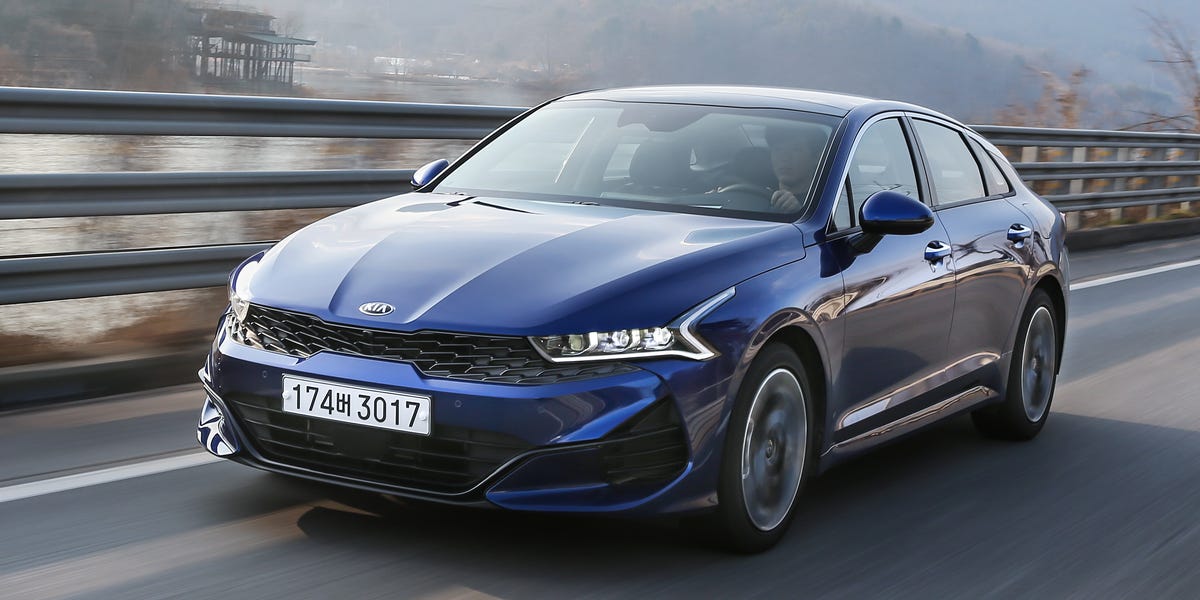 Remember when Kia's lineup was a forgettable fleet of cheap transportation? If you can't recall those rental-counter bottom-feeders, trust us, you're not alone. The Korean automaker and its corporate counterpart, Hyundai, have been successfully shedding that stereotype for many years now. They've recently blossomed into two of the more interesting brands out there. Kia introduced genre-busting new models such as the sporty four-door Stinger and the terrific three-row Telluride SUV. Now, the all-new 2021 Kia Optima heads further upscale with an even more stylish overhaul that has helped fuel the company's meteoric rise.
Aesthetically Pleasing and Physically Appeasing
It's hard to believe that the new Optima is built by the same company—let alone wears the same nameplate—as the outgoing model. (A quick note: To avoid confusion, we'll refer to the Korean-spec K5 that we drove for this review as an Optima.) Sure, the last generation could be handsome, but its replacement earns more affectionate compliments. Dare we call it sexy, even? Its narrow headlights are outlined by zigzag running lights that merge into Kia's "tiger nose" grille to give the sedan a fierce face. Its hood and side surfaces are creased for extra character without looking extra busy. A chrome strip runs congruent with the sweeping roofline before crossing the rear pillar, tracing the top of the trunklid, and connecting the opposite side of the car. This helps create a fastback profile that finishes with provocative taillights that span the rear end and resemble a heartbeat monitor.
If the Optima's dramatic exterior isn't enough, its impressive cabin ought to do the trick. Kia smartly avoided overdoing the design and opted for an uncomplicated layout with rich-looking materials. The dash is dominated by a piano-black bezel that houses a 12.3-inch digital gauge cluster and a 10.3-inch touchscreen. Seriously, the instrument panel has beautiful displays, including a vista-like background or gauges that transform with the drive modes. The infotainment system is also gorgeous, and its menus are generally easy to navigate. If there's anything to complain about inside the Optima, it's the lack of tactile controls. While the audio system has a volume knob, everything else is controlled via steering-wheel buttons or touch-sensitive zones around the screen. The same goes for the HVAC system. Kia claims these functions are more intuitive than traditional switchgear, but we prefer the more dependable and less distracting physical stuff.
Still, the Optima is great because of its luxury-like features and Kia's obvious attention to detail. The company didn't disclose the trim level we drove, but it showed what to expect from the fanciest examples. Our tester included cool ambient interior lighting on the doors and dash, a nifty air-purification system, heated and ventilated front seats (toggle operated, thankfully), a useful head-up display, plush leather upholstery, and a wireless charging pad. Except for the narrow door pockets, there's plenty of spots to store small items in the center console. The Optima's large trunk also looked capable of holding luggage for all its passengers. While we wouldn't pack five full adults into the sedan, even though there's room, four passengers will be very comfortable. The back seat in particular has generous legroom and a large fold-down armrest. The driving position was plenty flexible and includes a convenient dead pedal and floor-mounted accelerator. We only wish we could've lowered the seat height more.
Not All Good Cars Drive like Stars
For those who didn't know, the new Optima is mechanically similar to the all-new Hyundai Sonata. They share a platform, powertrain options, and other less obvious equipment, but they're endowed with different personalities. Based on our experience driving an Optima on the streets and freeways surrounding South Korea's capital of Seoul, we don't think it's likely to usurp the Honda Accord or Mazda 6 as the de-facto choices for driver engagement. However, that's more of a testament to those manufacturers' engineering than a shot at Kia. The Optima provides a pleasant experience that is highlighted by steady handling and a quiet ride. There was minimal road noise and no structural vibrations during our drive. The sedan was easy to maneuver through Seoul's tightly packed streets thanks to its relaxed but reactive steering. We didn't feel as confident with its soft brake pedal, which elicited a panicky prod when the binders didn't always quickly respond. Kia said this will be resolved before production starts, and there will be steering and suspension tuning changes for the U.S. market as well. That may resolve our only other complaint, which is that our tester had a firm ride that was most noticeable on uneven surfaces.
The Optima will offer a variety of different engine options in other markets, but U.S. models will have two choices. This means no more hybrid or plug-in hybrid—for now, at least. However, shoppers can turn to the Kia Niro or Soul EV for electrified alternatives. The 2021 Optima will also be available with all-wheel drive for the first time. This hasn't been confirmed for the States, but we expect it will since rivals such as the Nissan Altima and Toyota Camry offer it. The inevitable Optima GT will give Americans a turbocharged 2.5-liter inline-four that should make about 290 horsepower and 310 lb-ft of torque. It'll pair with Kia's first eight-speed dual-clutch automatic transmission. This setup should be very similar to the Hyundai Sonata N-Line.
The Optima we drove was powered by the other engine that's been confirmed for the U.S. It's the same turbocharged 1.6-liter inline-four that we tested on a 2020 Sonata Limited. It makes 180 horsepower and 195 lb-ft of torque, which should apply to the Kia, too. Our Optima also turned the front wheels through a dutiful eight-speed automatic gearbox. This is a welcome reprieve from the moaning continuously variable automatic transmissions (CVTs) that are becoming more and more common. The Optima's gearbox changed ratios with a refined consistency that could be held or hurried by switching into the Sport drive mode or by flicking the steering-wheel-mounted paddle shifters. However, it denied aggressive downshifts and brief inactivity initiated upshifts. Folks who care about that won't be interested in an Optima anyways. Instead, the turbo four's competent low-end power and subdued nature will satisfy most drivers. They'll just have to be patient when trying to pass slowpokes at highway speeds.
We Call It Great
Although there's a chance the fifth-generation Optima could be called K5 when it comes to the U.S., that hardly matters because it'll be almost identical to the Korean version that we drove. We're not fans of the potential name change, but the new car is so much better than its predecessor that Kia could call it Gangnam Style without affecting its appeal. Not only is it arguably more attractive than its mainstream competitors, the mid-size sedan also offers countless upscale features and—probably—the highly covetable all-wheel drive. That might even steal some Sonata sales. Who knows? What we do know is that the all-new Optima or K5 or whatever Kia decides to call it will be a great car and a great value when it hits U.S. showrooms in the second half of next year with a price tag that should start around $25,000.