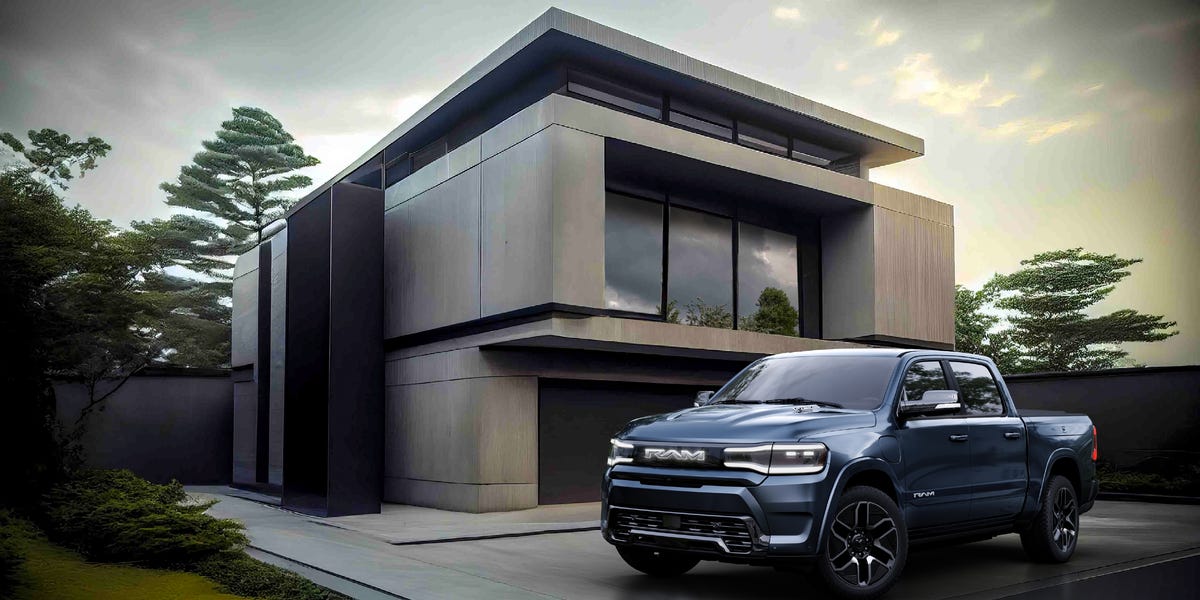 Overview
The upcoming fully electric Ram 1500 REV grabs life by the cord instead of the horns. Following the excitement of already available full-size EV pickups such as the
Ford F-150 Lightning and the Rivian R1T, this truck is a version of the Ram 1500 powered by batteries. Like its future EV competitors, the Ram 1500 REV retains a rugged body-on-frame chassis, and it's pinstriped with enough LED lighting to cover a short runway. While the concept Ram EV was a wildly futuristic truck with several outlandish features, the production version looks similar to the gas-powered model. It's being shown initially as a crew-cab model with a short bed. Ram's goal for its dual-motor and all-wheel-drive pickup is a max driving range of 500 miles and a towing capacity to rival modern gas-fed trucks of more than 10,000 pounds. Ram says it will use an 800-volt architecture that allows DC fast-charging rates up to 350 kW, giving it as much charging capability as the GMC Hummer EV. While the days of the gasoline Ram 1500 aren't over yet, the EV version is a nod toward the old truck's eventual replacement.
What's New for 2024?
The 2024 Ram 1500 REV will be an all-new model and the first Ram pickup truck to be powered exclusively by electricity.
Pricing and Which One to Buy
Ram hasn't said how much the 2024 Ram 1500 REV will cost, what trim levels will be available, or what equipment will be standard and optional. Based on the F-150 Lightning's current starting price of roughly $58,000, we'd wager that the electric Ram 1500 will open with a similar starting price. And given the lofty MSRPs of the Lightning's upper trim levels, the top Ram EVs will no doubt mirror those as well.
EV Motor, Power, and Performance
While it's still too early for a complete breakdown of powertrain options and total horsepower output, Ram has mentioned that the 1500 REV will feature all-wheel drive with motors located at the front and rear of the truck. Ram has also mentioned that the truck's new chassis is built to accommodate larger-capacity batteries, hinting toward a lineup that will likely consist of models ranging from more affordable to pricey, where total power and maximum range are the targets. We speculate that, for the Ram 1500 REV to beat the Ford F-150 Lightning's 10,000 maximum towing capacity, it would also outdo the F-series' maximum 580 horsepower. At least in dual-motor form, the Ram 1500 REV will offer four-wheel steering for tighter turning for the outdoors or in parking lots. Like the current truck it will offer an adjustable air suspension that increases ground clearance for off-road use and lowers the truck to maximize highway efficiency and ease of loading.
Towing and Payload Capacity
Ram didn't divulge specific figures when it mentioned the Ram 1500 REV's maximum tow rating, and it didn't discuss payload capacity at all. However, the brand promises that its all-electric pickup truck will be able to pull more than its EV competitors. Currently, the F-150 Lightning has an official maximum towing capacity of 10,000 pounds, so expect the Ram's max to exceed that.
Range, Charging, and Battery Life
While we don't know any details about the half-ton Ram REV's battery size or charging times, Ram has said that the truck will have a driving range of up to 500 miles. That's 200 miles longer than the longest-range F-150 Lightning is currently estimated to go. Ram says, at least in concept form, the electric truck can add up to 100 miles of range in approximately 10 minutes with 800-volt DC fast charging at up to 350 kW.
Interior, Comfort, and Cargo
The gas-powered Ram, for a long time, has offered a luxurious interior with quality materials that outpaces its competitors, and we suspect its shift toward battery dependence won't change that. Without an engine under the hood and other bulky powertrain components, the electric Ram 1500 promises to offer clever ways to increase storage for cowboys and contractors. The concept featured adjustable seating and storage areas that allow objects up to 18 feet long to fit from the bed to the frunk but we don't know if the production truck will have that. The powered frunk, side steps, and rear tailgate make the full-size pickup easy to use and get in and out of. A larger Ram Box with a multifunctional tailgate appears to be in store for the production pickup.
Infotainment and Connectivity
The Ram 1500 REV appears to have a similarly larger, vertically oriented touchscreen as what's available on the gasoline Ram. A 360-degree camera with digital side-view mirrors and a head-up display were shown on the concept shown, with voice assistance from both Android's Alexa and Apple's Siri. The truck's infotainment system also features a Smart Home Control function that will allow passengers to adjust lights, cameras, thermostats, and audio systems at home from the front seat. We expect equipment already found on the gas-powered Ram such as wireless phone charging and wireless Android Auto and Apple CarPlay to carry over as standard features for the EV truck.
As more information becomes available, we'll update this story with more details about:
Fuel Economy and Real-World MPGe
Safety and Driver-Assistance Features
Warranty and Maintenance Coverage