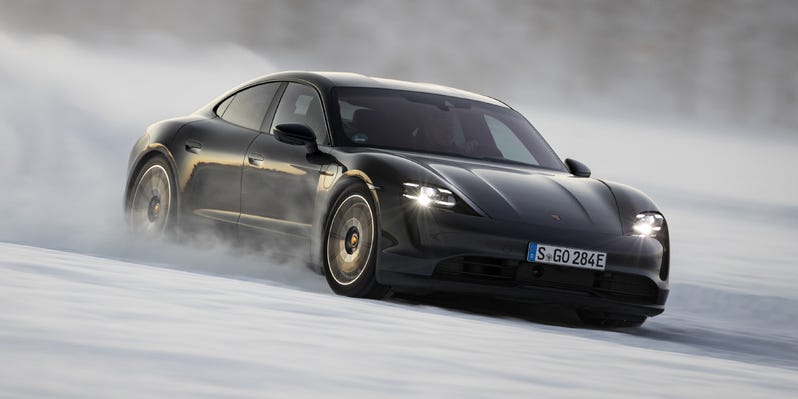 If you want to drive in the snow, it's a safe bet you can find some in Finland in December, particularly up above the Arctic Circle, in Lapland. That's where Porsche invited us to play with the 2020 Taycan 4S, the less powerful but more honestly named counterpart to the higher-end Turbo and Turbo S models. It's also where Porsche runs a winter driving school, complete with snow-covered skidpads and slaloms. Thus, it's a great place to show off the winter-weather advantages of its EV's dual-motor all-wheel-drive system while generating headlines like, "Taycan It to the Finnish Line in Lapland."
In Levi, Finland, where we began our drive, the 11:00 a.m. sunrise was promptly followed by 1:00 p.m. sunset. With all the darkness, this would have been a great place to introduce the Pontiac Aztec. The Taycan 4S, however, looked good in the Arctic twilight, and, as usual with Porsches, it hews to a clearly defined performance hierarchy. The Turbo S model does zero to 62 mph in a claimed 2.8 seconds, the Turbo in 3.2 seconds, and the 4S in 4.0 seconds. However, the 4S is the champ when it comes to range, with a maximum estimate of 288 miles on the international WLTP cycle. All Taycans use the same electric front-axle motor, but the 4S's smaller rear motor gives it a slight efficiency edge.
With the same Performance Battery Plus—93.4 kWh, the highest-capacity battery thus far offered in the Taycan—the 4S's range narrowly beats the Turbo's 280 miles in that WLTP test. However, United States ratings will be substantially lower, as the EPA tagged the Turbo with a pathetic range estimate of 201 miles. We'll see what happens once we run our own tests, but this points to a vast disparity between the WLTP and EPA numbers.
As for horsepower, here's where electrification takes number fetishists into new and exciting territory, because the 4S model alone has four horsepower ratings—two for each of the 93.4- and 79.2-kWh batteries, including one for peak output for 10 seconds and another for the "overboost" output that lasts for 2.5 seconds. So, with the optional big battery, you get 483 horsepower for 10 seconds or 563 horsepower in overboost. With the standard pack, those figures are 429 and 522 horses, respectively. In either case, zero-to-60-mph acceleration and the 155-mph top speed remain the same. But if anyone in the AutoZone parking lot asks you what kind of power your Taycan's pushing, you'll have to reply, "Well, for how long?" That's the rule now.
Lapland's nasty winter conditions—below-freezing temps with at least four inches of snow on the road at all times—didn't markedly ding the Taycan's own range prediction, which is informed by the last few hundred miles of driving. With the Mamba Green Taycan we drove showing 180 miles of range from a partial charge, we burned off 112 miles of estimated range while covering only 89 snowy Arctic miles at a relatively quick clip. The snow was consistently deep enough to cause the 20-inch Goodyear Ultra Grip 245/45R-20 winter tires to hydroplane—snowboard?—atop the powder, yet the Taycan still felt planted.
But, honestly, on an average unplowed road, this car doesn't feel much different than any all-wheel-drive performance sedan on winter tires. To really suss out the Taycan's advantages, you need a frozen slalom and a wide-open skidpad. Fortunately, Porsche has both those things at the Arctic outpost of the Porsche Driving Experience. It also has a fleet of Cayennes with tow straps, just in case.
Low-Grip Heroics
Running through the slalom, it's immediately evident that Porsche and Tesla have different philosophies when it comes to electrified winter rallying. Porsche wanted the Taycan to feel like a regular sports sedan, so there's barely any energy regeneration when you back off the accelerator pedal. The Sport Plus driving mode gives you the most off-throttle regeneration, but most of the regen comes via the brake pedal, which means in this context, the Taycan doesn't fully capitalize on its dual-motor advantage. In contrast, if you lift off the accelerator and turn the wheel in a Tesla Model 3 Performance with Track Mode, the front and rear motors apply differing degrees of braking to help pivot the rear end around and help the car turn. In the Tesla, you can negotiate a slalom without touching the brake, the car helping to initiate slides via its aggressive regen.
With the Taycan, you drive a snowy slalom as you would in a conventional internal-combustion car, alternating the brake and throttle and countersteering as needed. This is fine, but doing so seems to hold the dual-motor Taycan back from its full potential. Granted, pulling rally moves on a low-friction surface is an admittedly narrow context, but why make a car feel like something it's not just for the sake of familiarity? Why not add a screwing-around-on-snow mode? Let's hope that a software update is in the pipeline.
On the throttle, though, the Taycan is anything but familiar. Depending on the situation, it can switch from rear-wheel drive to all-wheel drive or front-wheel drive, practically instantaneously. The effect is that you can get it way, way sideways, seemingly to the point of no return, and still save it. The tail comes around so far that you think you can see its taillights in your peripheral vision, but if you stay with it (and have room to slide), the Taycan can haul itself back around without spinning. On a skidpad streaked with both grippy snow and bare ice, the 4S found so much grip that the challenge wasn't spinning out but adding enough throttle to keep it tail out in a drift. At one point during a sideways circumnavigation of the pad, that meant adding power until we saw 120 mph of wheel speed versus maybe 15 mph of progress around the chosen radius. The 4S's bag of drift tricks also includes a limited-slip rear differential, brake-based torque vectoring, and four-wheel steering.
All of this works together so seamlessly that the result can be summed up with, "The bad thing that you think is going to happen doesn't." You think you're going to spin, but you don't. You think you'll slide backwards into a snowbank, but then the car claws its way forward. Driving the Taycan 4S with abandon in Finland proved that it's suited for more than life in Miami, although it'll probably work pretty well there, too.