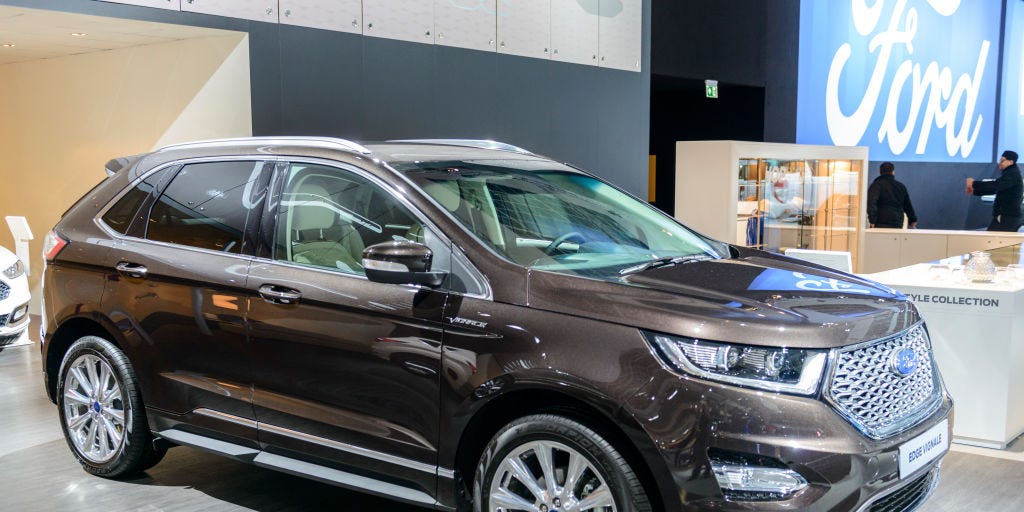 The 2019 Ford Edge has many appealing features. Its sleek design is something that may specifically stand out to most car buyers. There are now 10 different Ford Edge colors to choose from on the exterior and a few shades offered for the interior, as well. With so many color options available, people are eager to choose their favorite and start showing off their attractive new vehicle. Luckily, they have a large selection of quality colors to choose from.
Available Color Options for the 2019 Ford Edge Exterior
When selecting your desired color for the 2019 Ford Edge's exterior, you have 10 different options. Unfortunately, there are some colors that are only available for certain trim levels. According to Car Buying Strategies, the colors available on all four models are:
Ingot silver metallic
Magnetic metallic
Agate black metallic
Each of these colors contains a sleek, dark design. Since these colors offer more basic gray and black shades, they may not be the best option for someone searching for a more colorful look.
As stated by Brandon Ford, all the available color options, depending on the trim level you choose, are:
Blue metallic
Ruby red
Magnetic
Baltic sea green
Ford performance blue
Agate black
White platinum
Ingot silver
Burgundy velvet
Stone gray
If you want to expand beyond the monochromatic look, you can browse higher trim levels with more colorful options. One option is a Baltic sea green metallic color, which is a base color of gray with a green tint. The ruby red metallic tinted clear coat is a darker and more mysterious look you can choose. Both of these colors are available on the SEL and Titanium models. Ruby red metallic is available on the ST level, while Baltic sea green is not.
To continue with a sleek feel, the SE, SEL, and Titanium Ford Edge models are available in a stone gray metallic color that gives off more of an off-brown gray shade. For people who'd rather purchase a white car, the Oxford white color scheme gives a more luxurious vibe. This is available in the SE and SEL trims levels.
The SEL and Titanium models offer a burgundy velvet metallic tinted clearcoat that gives off a deep and rugged look to add more style to the overall exterior. For a deep blue hue, take a look at the SE, SEL, and Titanium models that sport a blue metallic color. Another shade available in blue is the Ford performance blue metallic color featured on the ST model. This blue is brighter than the basic blue metallic color to accent a more vibrant look.
Available Color Options for the 2019 Ford Edge Interior
According to Cars Direct, though the interior of the 2019 Ford Edge offers a decent amount of colors, it has slightly fewer options than the exterior. There are four total interior colors available depending on the trim level you select. The most standard options available on every trim level is an ebony color. In the SE and SEL trim levels, you can choose a subtle light gray shade.
If a darker shade sounds more visually appealing, the Titanium model has a dark dune color available. For a color that stands out from the rest, the Titanium trim level also offers a luxurious cognac color, which is a smooth mixture of deep red, brown, and gold shades.
Are There Other Color Options Available for the 2019 Ford Edge?
The 2019 Ford Edge doesn't offer other colors or shades. Though the Ford Edge offers a fairly large amount of colors, it seems to lack in overall variety as many of the colors feature more monochromatic tints.
The same applies to the interior. Though there are four color options available, most of the models only have two interior colors available for each trim. The ST trim, in particular, is only available in an ebony color.
Due to the lack of color variety, it could be beneficial for Ford to release more available color options or to provide more than two interior colors for each trim level. If the 2019 Ford Edge had more than just black and gray variations, its stylish look could drastically improve. That being said, Ford does seems to grant a luxurious and classic look and feel with the colors they do offer.
Color Options Available for the 2020 Ford Edge
If you're searching for a midsize SUV crossover, the 2020 Ford Edge is a comfortable and stylish option, as stated by Go Hansel. Ford gave this car a decent amount of updates from the 2019 model, such as automatic, dual-zone climate control. It's available in four trims: the ST, SEL, SE, and Titanium. Inside the car, you have a large selection of premium upholstery. The exterior of the vehicle is also available in various shades.
There are nine colors to choose from on the exterior of the 2020 Ford Edge:
Burgundy velvet
Star white
Dark Persian green
Rapid red
Agate black
Magnetic
Iconic silver
Atlas blue
Desert gold
The sportiest Ford Edge trim is the ST model. You can purchase this model in six different colors: iconic silver, agate black, magnetic, Ford performance blue, rapid red, and star white.
What Is Standard on the Ford Edge?
As listed on Cars.com the 2020 Ford Edge offers many high-tech amenities. Some of them include:
8-inch touchscreen
Wi-Fi hotspot
Sync 3 infotainment system
Apple CarPlay
Dual USB ports
Android Auto smartphone integration
In addition to its impressive technology, the 2020 Ford Edge also includes safety features to make all passengers feel safe and confident on the road. These safety features include:
Rear cross-traffic alert
Blind-spot monitoring
Lane-keeping assist
Automatic braking
Rearview camera
Forward-collision warning
2020 Ford Edge SE Colors
The vehicle's exterior is available in the following colors:
Desert gold metallic
Agate black
Iconic silver metallic
Dark Persian green metallic
Rapid red metallic with a tinted clearcoat
Atlas blue metallic
Magnetic metallic
Ford performance blue metallic
Burgundy velvet metallic with a tinted clearcoat
Star white metallic tri-coat
Oxford white
The interior of the 2020 Ford Edge is available in ebony, soft ceramic, and dune colors.
Sources:
https://www.carsdirect.com/2019/ford/edge/colors
https://www.car-buying-strategies.com/Ford/2019-Edge-Colors.html#:~:text=
https://www.brandonford.com/blog/2019-ford-edge-lineup-exterior-color-option-gallery/
https://www.gohansel.com/blog/2020-ford-edge-paint-colors/
https://www.cars.com/research/ford-edge/specs/
https://www.caranddriver.com/ford/edge-2019
https://www.caranddriver.com/ford/edge
This content is created and maintained by a third party, and imported onto this page to help users provide their email addresses. You may be able to find more information about this and similar content at piano.io